Printing pills: FDA approves drugs made using 3D printer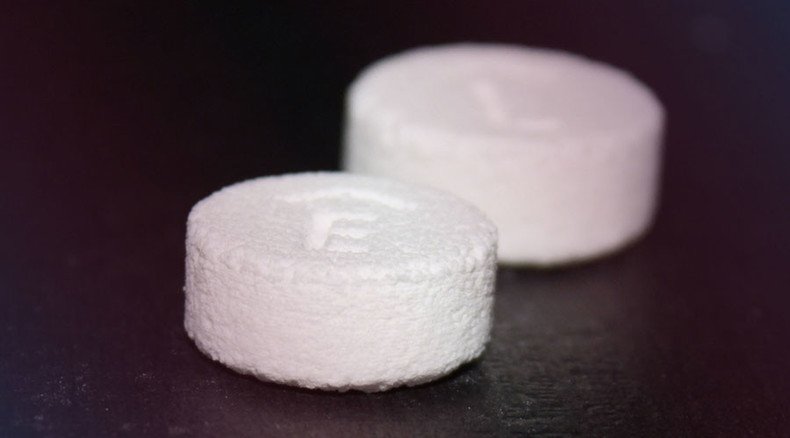 The US Food and Drugs Administration have approved some new pills – nothing new there it would seem – except these tablets were 3D-printed. The makers hope the technology can be used more widely in the field of medicine.
Aprecia is the pharmaceutical company behind the new drug called Spritam. The firm also has the distinction of printing the first product that has been approved by the Food and Drugs Administration (FDA) for use inside the human body.
The pills are used to treat epilepsy in adults and children. The tablets unique structure makes them dissolve much quicker than other drugs on the market, which sufferers say are difficult to swallow. The drug is expected to be released by early 2016.
The tablet is made by 3D-printing layers of the powdered drug and then binding the powder together. The makers of the pills say their technology will also allow doctors and pharmacists to know the exact dose being administered.
Although this is the first time 3D printed pills have been given the go-ahead, the printing technique has already been widely used in medical transplants.
READ MORE: Maryland boy first to get double hand transplant (VIDEO)
Last week, a boy from Maryland became the first youngster to receive a double hand transplant. The trailblazing surgery lasted nearly 11 hours and required a medical team of 40.
During the hand re-attachment operation, the medical team used steel plates and screws to fasten the old bones to the new, while a dozen surgeons reconnected eight-year-old Zion Harvey's arteries, veins, muscles, tendons and nerves.
A team of Russian scientists created a new biological material they called "bone cement", which after 3D-printing into a fracture or a crack, completely dissolves over time. In its place, the human body regenerates the missing part of the bone tissue.
"We have created material that the organism takes as original," Professor Vitaly Guzeev said in a statement. The material is soft and flexible but hardens after application. It isn't rejected by the body and has huge broad potential in surgery, ranging from dentistry and cosmetology.
"On the basis of hydroxyapatite, we prepared a liquid material that we can fill a 3D-printer with," the professor said. "Scientists hope to use tomography images and a 3D printer to recreate, fit and match the missing bone part using minute specifications," he added.
You can share this story on social media: