Siberian schoolgirl tackles knife-wielding adult attacker, hands him over to police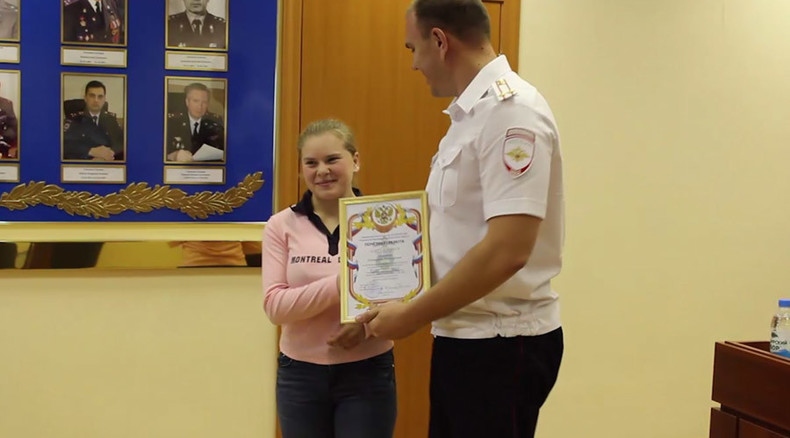 A 15-year-old school girl in the city of Tyumen didn't lose her nerve when she saw several young men getting into a late night fight. When an armed man injured two people with a knife, the teen intervened and neutralized the 27-year-old attacker.
According to the press service of the Russian Ministry of Internal Affairs in Siberia, several Tyumen residents called police to report a fight at about 11pm local time. When law enforcement officers arrived at the scene, they were brought up to date by a 15-year-old girl who apprehended the knife-wielding man.

Ekaterina studied military hand-to-hand combat for two years, it turns out, and when she saw the conflict unfold, she immediately intervened. Another young man first tried to snatch the knife from the attacker, but was slashed on the arm. But the girl wasted no time, got into the fight, neutralized the attacker and held him until police arrived.
"I was not afraid…I remembered what I had been taught and did it easily", Ekaterina said in an interview provided by Tyumen region police.

"If Ekaterina had not intervened, the circumstances would have been much more difficult for the others," police said in a press release.
According to the attacker, who had a previous conviction for theft, he was coming home from a party accompanied by four young women. Young people standing near his apartment block allegedly began to make advances to his companions, and a fight broke out. Police say the man pulled out a knife and injured two strangers after passers-by intervened in the conflict. Two victims, aged 20 and 26, were taken to hospital.
Ekaterina has been praised for her courage by police. The investigation is yet to establish all the circumstances of the incident.
"You have performed a real feat," said police officer Petr Vagin. "We will move for a city and national award for you because it is everyone's civil duty. You are an example not only for young people, your classmates and future fellow students, but for all police officers."