Russia's new maritime doctrine 'to counter NATO's expansion', focuses on Crimea & Arctic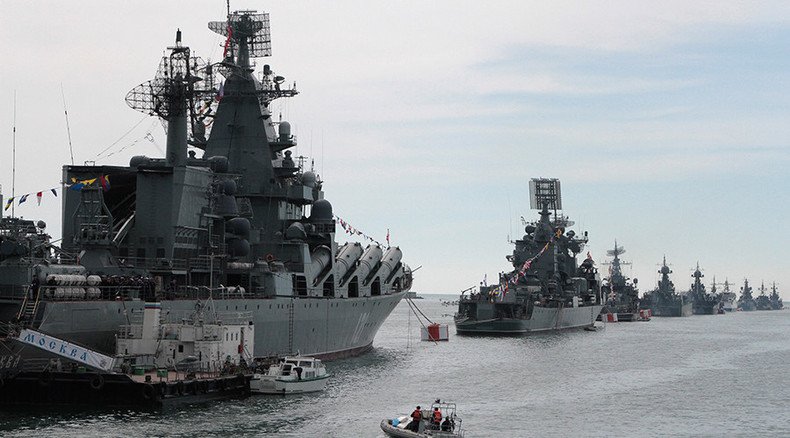 Amendments to Russia's Maritime Doctrine approved by President Putin stem from NATO's "eastward expansion", said Deputy Prime Minister Dmitry Rogozin. He added that the new doctrine focuses on Russia's naval presence in Crimea and the Arctic.
The main reasons for adopting amendments to Russia's maritime doctrine of 2001 are "the changes of international affairs" and the consolidation of Russia as a maritime power, Rogozin said at a meeting of Russia's top brass aboard the Admiral Gorshkov frigate in Baltyisk on Sunday, as cited by the Kremlin website.
READ MORE: Russia's Navy Day: Warships, subs, aircraft show off military might (PHOTOS, VIDEOS)
The revised document published the same day highlights Russia's naval presence in the Atlantic and the Arctic, he said. "Attention to the Atlantic stems from NATO's active development and the alliance approaching our borders," he explained.
"The second consideration is Crimea's and Sevastopol's rejoining Russia and the task of their swiftest integration into the economic life of our country. And of course [we have to] resume the presence of our fleet in the Mediterranean."
Rogozin also stressed the importance of Russia's role in the Arctic and the "growing importance of the Northern sea route," which in turn requires the updating of the nuclear-powered icebreaker fleet.
He noted that Russia has already launched the construction of a new nuclear icebreaker fleet adding that three units will start their operations by 2017, 2019, 2020, accordingly.
READ MORE: North Pole-2015: Russia launches drifting Arctic station
"In addition, [for Russia] the Arctic grants easy unlimited access to the Atlantic and Pacific oceans. And of course, it is the richness of the continental shelf that requires careful attention in its development."
Maritime Doctrine covers four functional and six regional areas. The four functional areas include naval activity, maritime transport, marine science and the development of mineral resources. The six regional areas are the Atlantic, the Arctic, the Pacific, the Caspian Sea, the Indian Ocean and Antarctica.
The amendments were approved by Putin on Sunday in Baltyisk, where he took part in festive events in honor of Russia's Navy Day. He called the amendments a "milestone event for the future of the Navy."
He said that for the first time the doctrine included purely social provisions – naval medicine, health building measures for sailors, specialists of the naval sector.
"It is particularly important. People must be sure that in strategic documents on the development of the Navy, on the development of Navy-related sectors, the state will never forget about the social aspects of these documents and will implement what people expect from their service in this extremely difficult and important sphere," he said.
You can share this story on social media: