Victims of MH17 crash remembered throughout the world a year on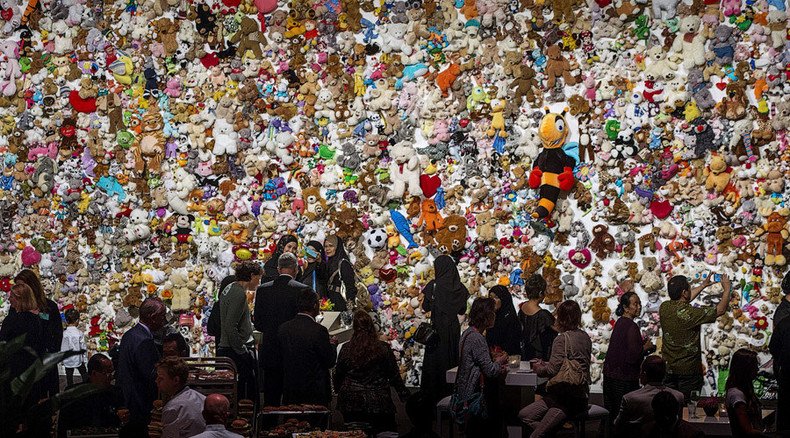 Commemoration services were held worldwide for the victims of the Malaysian Airlines flight MH17 crash which killed all 298 people on board when it was downed over eastern Ukraine exactly a year ago.
About 1,500 relatives of the victims gathered in the Dutch city of Nieuwegein on Friday to mark one year since the crash of the Boeing 777 that was heading from Amsterdam's Schiphol Airport to Kuala Lumpur. Most of the 193 victims on the doomed MH17 flight were from the Netherlands.
The wife of the airliner's co-pilot read the passenger announcement that her husband never had the chance to say upon landing."Weather en route is fine all the way and we will begin our decent shortly. On behalf of Malaysia Airlines and the rest of the crew, once again we would like to thank you for flying with us," she said from the stage, her voice trembling.
A wall of stuffed toys, which had been left at Schiphol after the disaster, was installed at the venue of the commemoration ceremony.
People brought sunflowers from the crash site near Torez in Ukraine's Donetsk region to Schiphol Airport to commemorate the victims. Flags flew at half-mast in cities and towns across the country.
"Today is a hard day, a day of reliving," said Prime Minister Mark Rutte. "The 298 unique people we remember today are for always bound with your lives and those of thousands of others."
Australia held a memorial service in Parliament's Great Hall in Canberra on Friday with Prime Minister Tony Abbott joining the families and friends of the 38 Australians who lost their lives in the crash. Mourners placed sprigs of wattle on a wreath at the service.
"Their passing leaves a void than can never be filled and a pain that still throbs," Abbott said addressing the crowd.
Abbot unveiled a memorial plaque paying tribute to the Australian victims during the ceremony. Malaysia remembered its 43 victims at a ceremony in Kuala Lumpur on July 11.
Moscow residents paid their respects to the memory of the passengers and crew of the MH17 flight by laying flowers at the Dutch embassy, with some also visiting the Australian embassy.
Russian activists launched an online campaign called #Paperboeing where they urged people to bring a paper airplane to the Dutch Embassy in Moscow.Foreign Minister Sergey Lavrov also paid tribute to the victims by laying flowers at the wall of the embassy.
Meanwhile, a church service was held in memory of the MH17 victims in the village of Grabovo near the crash site in eastern Ukraine. A memorial plaque was installed near the charred area of the crash, where bits of twisted metal were still scattered on the ground, while flags of the victims' countries flew overhead.
You can share this story on social media: