Polygamy app? 'Halal' dating service launched in Russia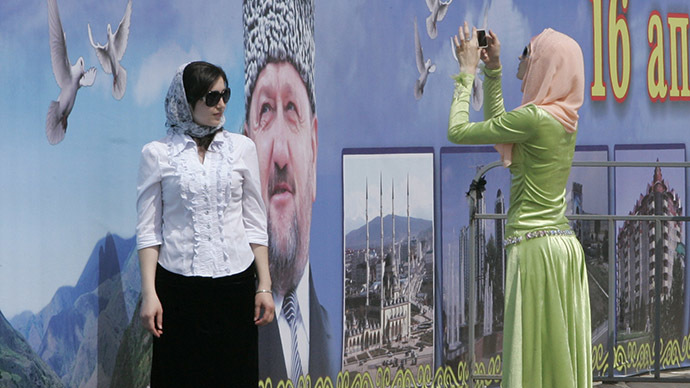 A mobile dating service based on ethnic and religious criteria has been launched in Russia. Described as dating "in eastern traditions," it could help you find a second wife with several clicks, its developers say.
To become a participant in Mydiaspora.mobi, one has to pass a serious test by answering a number of questions, many involving religious matters, Izvestia newspaper reported on Monday. The service has been developed as an alternative to the large number of existing dating applications, most of which defy Muslim traditions, its founder Arsen Kazibekov told the daily.
"Every person should have a family. Every family has its own motherland," My Diaspora webpage says. Once signed up, a number of features become assessable, including regional news, recipes for ethnic cuisine, and pictures of one's "native land."
Saying that the apps' new dating service has been designed for the various diasporas living in Russia, the search for a second wife option was added after numerous requests from respondents who tested the service ahead of its official launch, Kazibekov said.
"Some Christian women have written that they are single, have several children, and little income and are ready to take a role of the second wife," he told Izvestia.
To be registered one has to complete a detailed questionnaire, providing information on financial status, as well as the usual drinking and smoking habits. A woman must also register her openness to a possible change of religion, as well as inform the app about how many male siblings she has.
A picture of a sweetheart candidate can only be seen at later stages of online communication. An older brother or a father can be added to a chat between a woman and her potential future mate as a virtual chaperone.
READ MORE: Chechen leader 'chides WhatsApp gossipers ridiculing teen bride marriage'
The simple version of the "halal" dating app, which supports both iOS and Android, is free of charge, Izvestia reported. The full version, which includes extra functions and a more detailed questionnaire, will soon be released with a monthly subscription charge of $10. There are already some 10,000 registered users, Kazibekov said, adding that the number of men and women using the app is roughly even. Most of those searching for a new spouse are Dagestanis, Armenians, Chechens and Tatars, he said.
Polygamy is illegal in Russia according to Federal Law, although attempts have been made to legalize it locally in some of parts of the country with Muslim majorities. The latest issue to reignite public debate on the controversy was the wedding of 17-year-old Kheda (Louisa) Goylabiyeva and 46-year-old police commander Nazhud Guchigov in the Chechen Rupublic. Guchigov was believed to be married with children at the time of the wedding. Chechen leader Ramzan Kadyrov discouraged the discussion of the wedding on, calling on "gossipers" to stop "slander" and even refrain from using WhatsApp.
You can share this story on social media: