Afghan ISIS leader killed in drone strike - intel agency
Published time: 9 Jul, 2015 13:25
Edited time: 9 Jul, 2015 13:50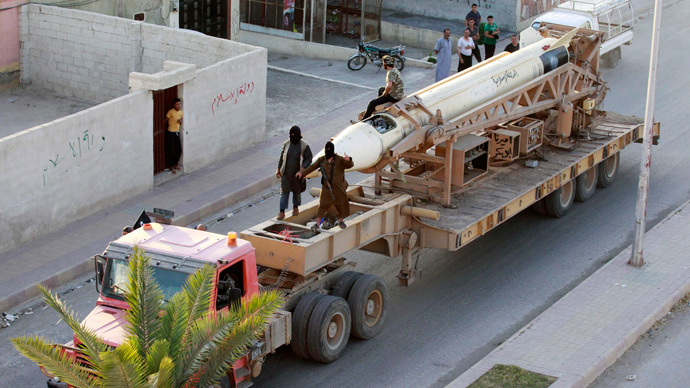 The Afghan intelligence agency has confirmed that the Islamic State (IS, formerly ISIS,ISIL) leader in Afghanistan was killed in a drone strike in the eastern part of the country earlier this week.
The National Directorate of Security confirmed on Thursday that the IS leader in Afghanistan, Shahidullah Shahid, along with several other IS militants, was killed in a drone strike in Achin district in eastern Nangarhar on Tuesday.
Based on #NDS intelligence, Mawlawi Shahedullah Shahed, a senior ISIS commander was killed in a air strike in Achin district, Nengarhar.

— NDS Afghanistan (@NDSAfghanistan) July 9, 2015
He led IS in the Khorasan province. Shahid, a former member of the Pakistani Taliban, was ousted from the group in October 2014, and was one of the first to pledge allegiance to IS in Afghanistan, local media TOLOnews reported.
Shahid, nee Sheikh Maqbool, wanted to launch a regional fight, expanding IS influence in Afghanistan, starting from Nangarhar province, the media report said.
The IS leader was killed in the same strike with the group's "number two" – the head of military operations - Gol Zaman, NDS said.
#ISIS group's N#2, head of military operations, Gol Zaman, with 6 other members of ISIS were killed in an air strike in Achin, Nengarhar.

— NDS Afghanistan (@NDSAfghanistan) July 7, 2015
In July, the Ministry of Interior Affairs (MoI) announced the establishment of a joint unit aimed at combating IS affiliates.
According to a recent Reuters report, IS militants have gained control over significant amounts of territory ousting the rival Taliban jihadist group in Afghanistan's Nangarhar province, which borders with lawless areas in Pakistan.
READ MORE: ISIS gains ground in Afghanistan, challenges Taliban dominance – report
The two extremist groups reportedly declared holy war (jihad) on each other in April 2015 after the IS ringleader Abu Bakar Al-Baghdadi called the Taliban leader Mullah Omar "a fool and an illiterate warlord."
IS militants have conquered large areas of northern Syria and parts of Iraq and gained a foothold in war-torn Libya, Egypt's Sinai peninsula, Afghanistan and other unstable regions of the Middle East, North Africa and Asia.