​ISIS gains ground in Afghanistan, challenges Taliban dominance – report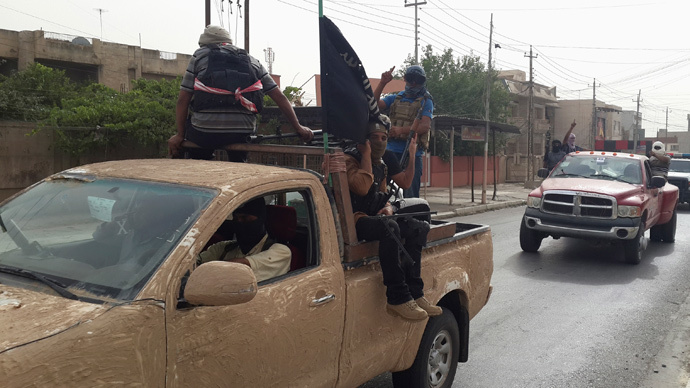 Islamic State loyalists [IS, formerly ISIS/ISIL] have recently taken control over significant territory in Afghanistan, ousting the rival Taliban jihadist group there, Reuters reports, citing witnesses and officials.
Civilians who escaped clashes in the Nangarhar province in eastern Afghanistan claim that hundreds of militants have pledged allegiance to IS and launched military operations against the Taliban. They have managed to push back their rivals and gain control of at least six of Nangarhar's 21 districts.
READ MORE: A year of terror: ISIS kills over 3,000 in Syria since declaring 'caliphate' – report

"They came in on many white pickup trucks mounted with big machine guns and fought the Taliban. The Taliban could not resist and fled," Haji Abdul Jan, a tribal elder from Achin district told Reuters.
Some people have welcomed IS, despite the militants' reputation as merciless executioners.
"Unlike the Taliban, they don't force villagers to feed and house them. Instead, they have lots of cash in their pockets and spend it on food and luring young villagers to join them," a refugee and tribal elder, Malek Jan, told Reuters.
Witnesses say IS fighters burn opium poppy fields, which are one of the Talban's most important sources of income.
Islamic State loyalists have been disseminating the edicts of IS leader Abu Bakr al-Baghdadi, but it is unclear whether this is directly on his orders or if the jihadists are just following his ideas.
"All Mujahideen fighters are invited to carry out this holy war under one flag, which is the Islamic State," said a letter smuggled out of IS-controlled territories.
However, Afghani officials, as well as the US-led training force, still doubt that there are direct links between the Middle East Islamic State and its supporters in Afghanistan.
The Taliban itself does not recognize the militants from the Nangarhar province as members of IS. "They are thieves and thugs ... We will soon clear those areas and free the villagers," claimed Taliban spokesman Zabihullah Mujahid, as cited by Reuters.
READ MORE: ISIS would need 'foreign hand' to rise in Afghanistan – ex-president Karzai to RT
Afghani officials are meanwhile giving conflicting information about their encounter with IS.
"We have launched a couple of clearance operations in some districts of Nangarhar and we will continue to do so to deny any terrorist group territory," Interior Minister Noor ul-Haq Olomi said in a statement.
On the other hand, Achin's district chief, Malek Islam, claimed "They haven't attacked us, and we haven't engaged them either," pointing out that IS is fighting the Taliban, which is the government's chief rival.
Islamic State activities were detected in Afghanistan in late 2014. In April 2015, the Taliban and IS were said to have declared holy war (jihad) on each other, after Abu Bakar Al-Baghdadi called the Taliban leader Mullah Omar "a fool and an illiterate warlord." Shortly beforehand, Islamic State had announced the establishment of "the emirate of Khorasan" on the territories of Afghanistan, Pakistan, India and Bangladesh.
You can share this story on social media: