Greece pushes for 'socially just' agreement by week's end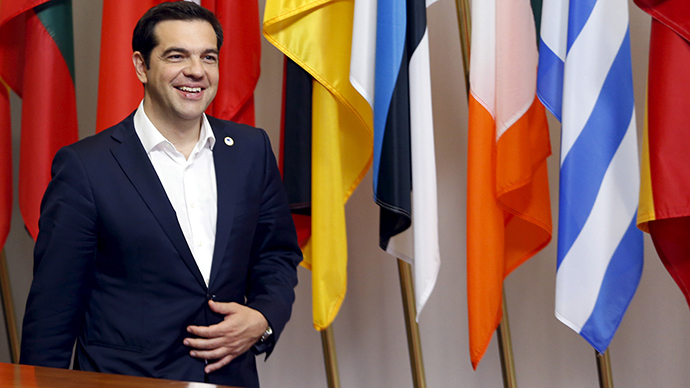 Greece has submitted ideas for a socially-just, economically viable agreement with creditors, Prime Minister Alexis Tsipras said, stressing that negotiations on debt restructuring will be fast and will conclude by the week's end.
Post-referendum: Greek debt crisis LIVE UPDATES
"The discussion was held in a positive atmosphere," Tsipras told reporters after an emergency meeting of Eurozone leaders, summoned in the wake of the Greek referendum and IMF debt default.
"The Greek side will continue the effort, having the strong weapon of the Greek people's verdict," he added, saying the process will be concluded by the end of the week "at the latest."
While Greece says it already submitted some ideas on how to overcome the crisis, its Eurozone partners claimed Athens' delegation arrived to the summit unprepared without any new comprehensive proposals.
EU president Donald Tusk said that Greece has until Thursday "at the latest" to submit a reform plan and proposals for a "comprehensive and specific agenda"
Tusk confirmed that EU leaders will meet again on Sunday, adding that "inability to find an agreement may lead to bankruptcy of Greece and insolvency of its banking system."
The roadmap presented by Tsipras was formulated by the Greek party leaders earlier on Monday and besides talks on debt restructuring, it urges EU commitment to sufficient coverage of Greece's financial needs and an investment package to address unemployment problems.
Meanwhile, French President François Hollande said that Greece will receive financing only after at least a medium-term deal is reached. Hollande added however that the European Central bank will not pull the plug and "will ensure minimum liquidity for Greece until Sunday."
"The stark reality is that we have only five days left to find the ultimate agreement," Tusk said in his closing remarks. "Until now, I have avoided talking about deadlines. But tonight I have to say loud and clear that the final deadline ends this week. All of us are responsible for the crisis and all of us have a responsibility to resolve it."
Grexit scenario prepared in detail – Juncker
Meanwhile, the EU is prepared for any outcome of the negotiations with Greece, including its possible exit from the Eurozone, which cannot be ruled out, the European Council President Jean-Claude Juncker said.
"We have a Grexit scenario, prepared in detail," Juncker announced. "We have a scenario as far as humanitarian aid is concerned."
"And we have – and that's the scenario I most prefer – a scenario of how to deal with the problem now keeping Greece as a member of the euro area."
But Grexit can't be prevented unless the Greek government does what it is "expected to do" and respects the "dignity of the Greek people," he added.
You can share this story on social media: