Greek debt crisis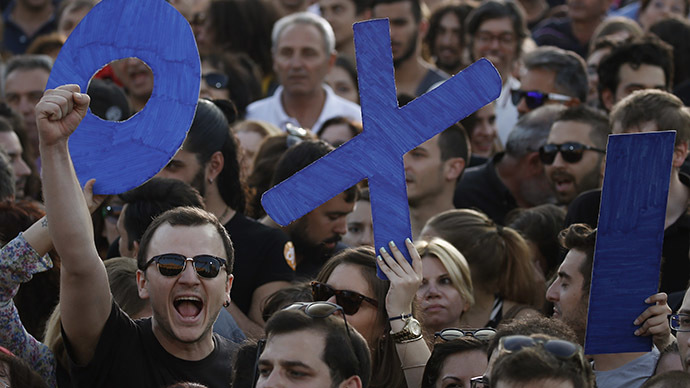 The eurozone leaders have reached an agreement over a third bailout for debt-ridden Greece. According to EC President Donald Tusk, the deal allows Athens a chance "to get back on track with the support of European partners."
13 July 2015

19:58 GMT

Panos Kammenos, the Greek defense minister and leader of the right-wing Independent Greeks party, has denounced the agreement reached between Greece and its creditors, describing the proposed deal a as a "coup staged by Germany and other countries."

"This deal introduced many new issues ... we cannot agree with it," Kammenos said after meeting with Prime Minister Alexis Tsipras, AP reports.

19:06 GMT

The solidarity that has been provided to Greece has been substantial, said Klaus Regling, the managing director of the European Stability Mechanism (ESM), as he gave a summary of the Eurogroup meeting in Brussels, Monday.

19:00 GMT

It will take around four weeks for a new bailout program for Greece to be worked out, according to Eurogroup President Jeroen Dijsselbloem.

16:08 GMT

Greek Prime Minister Alexis Tsipras held an emergency meeting at the Presidential Office in Athens, on Monday. The Greek leader assembled top government officials, including Syriza's parliamentary spokesperson Nikos Filis and new finance minister Euclid Tsakalotos.

15:36 GMT

With a conditional agreement on a new bailout at hand, the International Monetary Fund (IMF) is ready to work with Athens and its European creditors in an effort to solve the debt crisis, Reuters reported.

"The IMF stands ready to work with the Greek authorities and the European partners to help move this important effort forward," the agency cited IMF spokesman Gerry Rice as saying. The global lender's board has been briefed on the outcome of the talks by IMF managing director Christine Lagarde, he added.

15:12 GMT

Germany has "forced costs to the EU, used extortion and violated democratic sovereign rights," the co-chairman of leftist opposition party Die Linke Bernd Riexinger declared in Berlin on Monday, reacting to the agreement that was reached between Greece and its international creditors.

13:48 GMT

Finnish Finance Minister Alexander Stubb said that he hopes that Greek parliament ratifies the agreement over a third bailout for Athens. He added that the discussion has taken "a good leap forward."

13:43 GMT

Greek bank holidays imposed on June 29 will be prolonged for two more days, two bankers told Reuters after a meeting with Greece's deputy finance minister. "The aim is to reopen branches on Thursday," said one banker. Greek government is reportedly planning to reconsider the situation on Wednesday.

12:43 GMT

'Greece deal is too tough, too late, the death of Greeks' - fmr Greek ambassador

12:03 GMT

Greek banks will remain closed for now, the Finance Ministry said, without saying when exactly they will open again.

"The bank holiday will be extended," the official from the ministry said, as cited by Reuters.