Nuclear deadline: Protracted Iran talks near resolution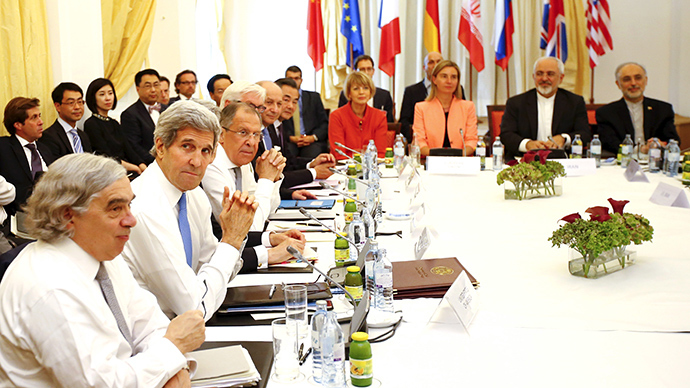 With the primary parts of the Tehran nuclear deal reportedly decided, the top diplomats from P5+1 world powers and Iran have taken a break in order to continue their negotiations on Tuesday, the latest date upon which a resolution should be reached.
The deadline for reaching the final agreement was initially set for June 30, but as the date approached, the negotiators decided to extend talks until July 7. However, it still appears that the new deadline could also be missed.
READ MORE: Approaching a final deal: Timeline of Iran's nuclear program controversy
The negotiations will continue on Tuesday morning, a diplomatic source told RIA.
"We're not there yet," State Department spokesman John Kirby said in Washington after US Secretary of State John Kerry and Iranian Foreign Minister Mohammad Javad Zarif held talks early Tuesday night. After their meeting ended, lower-level officials are continued negotiations into the night.
"There has been progress made, there's no doubt about that, but there still remain disagreements and still differences over some particular factors that have precluded thus far reaching a deal," Kirby said.
The main topics of contention are the timing of sanctions relief for Iran and the nature of the monitoring mechanisms on Iran's nuclear activities.
As talks continue within the framework agreement reached between P5+1 on April 2 in Lausanne, Switzerland, Iran is pushing for a United Nations arms embargo to be lifted, a senior Iranian diplomat told AP on Monday.
"This issue does not belong to the nuclear file so the natural question is: What has been the reason for the inclusion of arms embargo in the resolution in the first place?" the official was quoted as saying. "So this is a question that should be posed to our European and American partners…what was the reason that you put this issue in the agenda of the Security Council?"
Earlier on Monday, Iran's Etemaad newspaper reported that the main text of the deal, as well as stating that four out of five annexes had been approved by the negotiators, with work continuing on the fifth one that concerns a new United Nations Security Council resolution.
"It has been formulated rather precisely," a source close to negotiations told RIA commenting on the report about the documents agreed so far. "But everyone is still far from the agreement."
US team of negotiators are working against time to reach a deal and submit it to Congress by July 9. The Obama administration has set Tuesday as the deadline for concluding the talks, because the long summer recess on Capitol Hill will push the congressional review period, needed to secure the deal, from 30 days to 60, something Obama is trying to avoid.
But another extension was "certainly possible," according to White House spokesman Josh Earnest.
"We don't see a definitive deadline for our work here," Iranian official told reporters on condition of anonymity. "If we pass July 9, this may not be the end of the world."