Israeli takeover of Freedom Flotilla's 'Marianne' taped (VIDEOS)
Published time: 6 Jul, 2015 14:18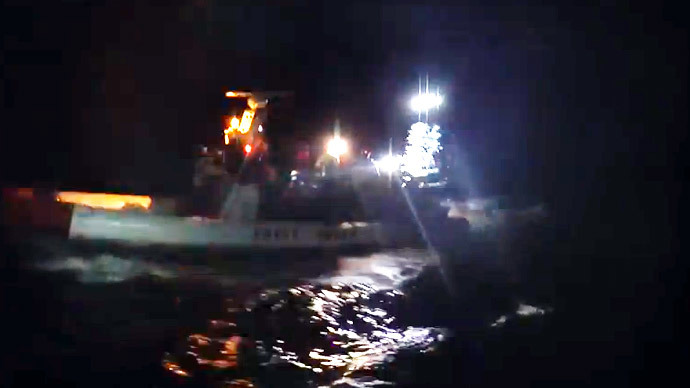 Pro-Palestinian activists from Freedom Flotilla have published a video showing the moment Israeli troops boarded the ship 'Marianne av Göteborg' on Monday last week.
The video shows an Israeli coast guard boat sailing next to the Swedish-flagged activist vessel, which trying to break the naval blockade of the Gaza Strip.
One of the soldiers is heard demanding in English that all 'Marianne' passengers go to the move to the front of the boat and reduce their speed so that she could be boarded safely.
READ MORE: Israeli military escorts Gaza-bound aid flotilla flagship to port of Ashdod
A flotilla activist is heard replying, "No. I ask you soldier to move from our boat. Don't threaten us. Go away. You move to the front of the boat. You are not allowed to come on our boat."
The two parties quarrel for some time about which of them is endangering civilians in this stand-off, after which IDF soldiers board the activists' boat.
The boarding of 'Marianne' was largely peaceful, although the activists complained about the IDF using Taser stunners against them. The episode of violence was caught on camera and published last week.
'Marianne' was intercepted in international waters some 85 nautical miles off the coast of Gaza, activists reported. It was towed to the port of Ashdod for inspection, while the rest of the flotilla turned back.
It was not the first attempt by pro-Gaza activists to break through the blockade. The first one in 2010 led to an international scandal, as Israeli commandos raided the flotilla, killing eight Turkish nationals and a Turkish-American citizen.
Israel has been maintaining a blockade of the Gaza Strip since 2007, saying it is needed to prevent arms from being delivered to the Hamas militant movement. Critics say Israel is harassing the Palestinian population by not allowing humanitarian aid into the Gaza Strip and preventing any sort of sea trade.
READ MORE: Freedom Flotilla: 'Tasering my friend Charlie was an act of terrorism'