Poroshenko's pledge for Ukraine to join EU 'rather ambitious' – Euro Parliament president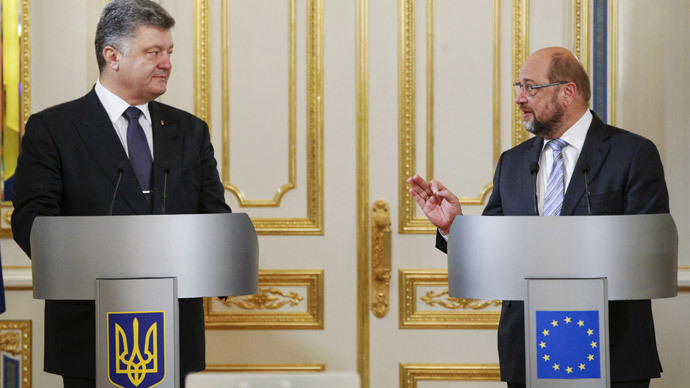 European Parliament President Martin Schulz believes the Ukrainian president's desire for the country to join the EU in just five to six years is "rather ambitious." Petro Poroshenko, however, believes the country will have met the entry criteria by then.
"We are ambitious in our plans and our belief, and that's why we declare that within five years we will provide effective implementation of the [EU] association agreement and meet conditions required to apply for membership in the European Union," President Poroshenko said in April at the start of a summit with top EU officials in Kiev. Last year, he even vowed that "from the start of 2015, all Ukrainians will have the right to visit EU countries without a visa."
The situation looks markedly different now: not only have the Ukrainians been slapped with even bigger legal hurdles necessary to acquire a Schengen visa (including fingerprinting, among others), the Europeans also aren't willing to consider even a six-year timeframe. As Schulz put it to Ukraine's 'Evropeyska Pravda' on Friday: "In six years? I'd say that is rather ambitious."
Schulz said: "We are facing a different problem today," and that the priority is "to stabilize the country politically, economically, socially. With a stabilized Ukraine, we have a chance to gain stability for the region as a whole.
"I would be happy if it was possible now to solve [this issue], and then we would start a discussion on the future of Ukraine," Schulz said, adding that the European Union is an open association and that "our neighbors have a European perspective," but that talking about the future in the current situation is "incredibly difficult."
Meanwhile, as Poroshenko vows to reform Ukraine, massive demonstrations have been taking place in the country. Some 3,000 people took to the streets of the capital in early June to protest against economic stagnation and a lack of reform.
READ MORE: 'Impeach Poroshenko!' Massive anti-govt rally held in central Kiev
Protesters demanded a raise in social welfare payments and an end to the unrest in eastern Ukraine. A month later, about 2,000 far-right radicals, together with ultra-right volunteer battalions, could be seen marching in the capital, demanding that the fighting continue and that the Minsk agreements are revoked.
Less than a week ago, another group of demonstrators had gathered in front of the US Embassy in Kiev to voice opposition to what they call American meddling in Ukraine's internal affairs. Several hundred showed up.
READ MORE: Far-right stage huge march in Kiev, call for military action in E. Ukraine
Earlier in April, thousands of coal miners blockaded Kiev's streets to protest the closure of coal mines and to demand a rise in salaries, as they shouted "Where is our money?" and "Shame on you!" at the government headquarters downtown.
EU leaders have not shown any particular enthusiasm so far about Ukraine joining the bloc. Late May saw the release of a leaked draft resolution, ahead of the Eastern Partnership Summit. In it, German Chancellor Angela Merkel urged her counterparts not to rush to a decision on Ukraine.
"We must not create false expectations," Merkel said, speaking to the German parliament before leaving for the Eastern Partnership Summit in Riga. The Eastern Partnership "is not an instrument of enlargement politics for the European Union and we must not make promises that we can't fulfill," Merkel said at the time.
READ MORE: 'No promises' on EU membership for Eastern states at Riga summit
The partnership was set up in 2009 to establish concrete steps and ideas that would bring eastern-European states closer to cooperation with the EU, including domestic reforms. In May, bloc members had gathered in Latvia for a two-day summit to discuss EU membership for eastern European states, including Ukraine. The EU leaders are examining potential membership prospects for Armenia, Azerbaijan, Belarus, Georgia, Moldova, and Ukraine, as well as the development of its Eastern Partnership program.
Ukraine, however, did not get much from the summit, apart from a loan and a vague promise of visa-free travel that was very carefully paraded in front of Poroshenko, so as not to make any concrete promises. Any talk of a Ukrainian membership at the summit was non-existent.
But Poroshenko has been keeping busy. Just two days ago he ratified a series of measures taken together with the IMF to qualify for receiving a $1.7 billion loan, following on from the €1.8 billion he just secured from the EU.
In another move toward the West, Poroshenko also signed legislation that would allow foreign troops to be on Ukrainian soil in the role of peacekeepers – something that was previously impossible.
But as Schulz appears to be saying now, the "concrete assurances" Poroshenko has been looking for are still a while away.
You can share this story on social media: