'Yankee go home!' Hundreds stage anti-US protest in front of embassy in Kiev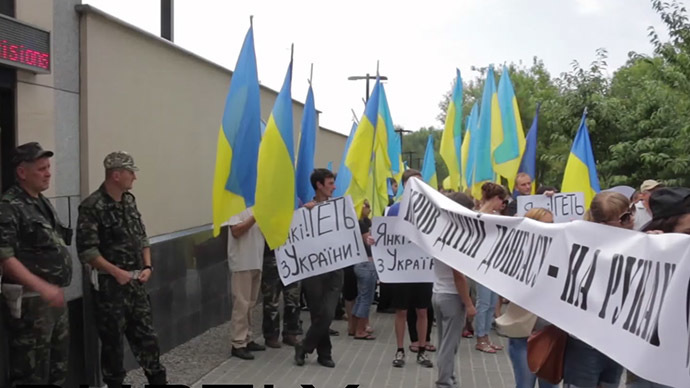 Demonstrators have gathered in front of the US embassy in Kiev to protest against what they call US meddling in Ukraine's internal affairs, including the military conflict in eastern Ukraine.
Several hundred protesters held a rally in front of the US embassy in Kiev on Wednesday, Ruptly reports. The demonstrators held placards with signs: "Shame on the US" and "Yankees go away from Ukraine."
Some carried photos depicting the destruction and casualties in the country's restive east, while others held signs reading "The blood of Donbass kids is on Obama's hands."
A similar protest in front of the US embassy in Kiev was held last Thursday. The demonstrators staged a performance during which a protester portraying a US soldier soaked in pig blood tried to hand out dollars to the embassy's security. The rally included an installation consisting of bottles with flags of the countries in which, according to the protesters, the so-called "color revolutions" took place.
Washington has been providing financial and non-lethal military aid to Ukraine, while some US lawmakers have been pushing the White House to send lethal aid to Kiev.
In May the House Armed Services Committee approved $200 million for providing "lethal weapons of a defensive nature" to the Ukrainian government citing "Russian aggression."
Following the first-ever meeting between Defense Secretary Ash Carter and Ukraine Defense Minister Colonel-General Stepan Poltorak in June, the US promised to send 100 Humvees to Ukraine in July.
The new equipment is part of the $75 million military package extended by the White House earlier this year. It included about 30 armored Humvees, 200 other Humvees, radios and hand-launched Raven surveillance drones.
READ MORE: House committee approves $200 million for arming Ukraine
Washington has already deployed 300 instructors as part of a $19 million program to train several units of Ukraine's National Guard authorized in 2014.
Last April Kiev launched a military operation in the country's southeast, after the Donetsk and Lugansk regions refused to recognize the new authorities in Kiev, which were installed during the February 2014 coup. According to a recent UN report, the violence has killed nearly 6,500 people, wounded over 16,000 and left 5 million people in need of humanitarian aid in the past year.
You can share this story on social media: