Tentative agreement on sanctions relief for Iran reached in Vienna - sources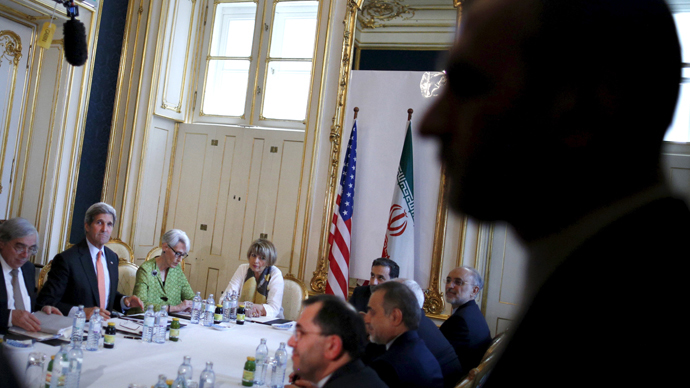 A tentative agreement between six world powers and Iran has been reached that includes sanctions relief for Tehran, AP reported Saturday, citing diplomatic sources. Sanctions has been one of the most difficult issues at the talks, sources say.
An agreement on what sanctions will be lifted and when has finally been reached in Vienna, two diplomats told AP on Saturday on condition of anonymity. The confidential negotiations finally resulted in a deal that has yet to be signed off by senior officials from Iran and the P5+1 nations, the sources said, without providing any further details.
Sanctions relief has been described by officials as one of the key disagreements between Iran and the US, AP reported, adding that experts for both sides have finally agreed on a package.
Secret doc: US to give Tehran nuclear technology, refurbish reactor under deal http://t.co/vTfl5nqAcepic.twitter.com/7krfaJCzvo

— RT (@RT_com) June 25, 2015
A senior US official did not dispute the diplomats' account, but said there was still work to be done before the issue can be considered finalized, AP reported.
With the deadline at Vienna talks to reach a comprehensive accord on setting restrictions on Iran's nuclear program in exchange for sanctions relief having been extended already, negotiators now hope to wrap up the deal by July 7.
"There are grounds to believe that the result is within reach and we have instructed our deputies to spare no effort in reaching the agreement within days," Russian Foreign Minister Sergey Lavrov said earlier this week.
READ MORE: Oil firms Shell, Eni visit Iran as nuclear deal nears
Later on Saturday, Iran denied that an agreement had been reached, Iranian Press TV reported. Some major sticking points over the sanctions issue remain between Iran and its negotiating partners, the channel said, citing a source close to the Iranian negotiating team.
Calling reports on a tentative agreement "fundamentally baseless," the source said that the key principle at the talks was "nothing is agreed until everything is agreed."
READ MORE: Iran, P5+1 world powers extend nuclear talks deadline by a week
Meanwhile, Iran's Deputy FM, Seyed Abbas Araghchi, announced on national television that the text of the final deal could be agreed upon at the deputy minister level within the next two days, TASS reported on Saturday. Up to five issues still remain unresolved, the official said.
The final accord contains around 20 pages, Araghchi said, adding that five appendices to the deal are in the works.
The so-called P5+1 group of international mediators – Britain, France, China, Russia, the US and Germany – have been in lengthy negotiations with Iran to ensure the peaceful nature of Tehran's uranium enrichment program. Iran says its nuclear program has nothing to do with producing weapons, and is asking for Western economic penalties to be lifted shortly after a deal is reached.
The Vienna negotiations are taking place within the framework of the previous agreement reached in April in Lausanne, Switzerland. The latest talks have focused on Iran suspending a portion of its nuclear activities in return for relief from over a decade of Western sanctions - one of several annexes meant to accompany the final deal.
READ MORE: EU reinstates sanctions on major Iranian bank & 32 shipping companies
The UN Security Council, the US, the EU and a number of other countries had imposed several rounds of economic sanctions against Iran due to its controversial nuclear program. The restrictions initially targeted foreign investment in Iran's oil and gas sectors. Banking and insurance transactions, including those with Iran's Central Bank, have been also restricted. The sanctions also include a ban on selling aircraft and spare parts to Iranian aviation companies.