Oil firms Shell, Eni visit Iran as nuclear deal nears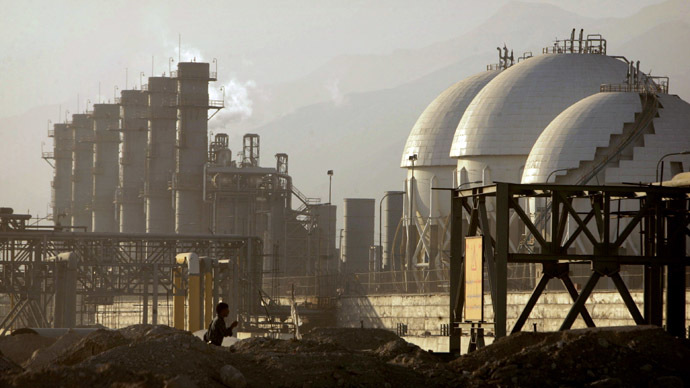 Over the last two months executives from Royal Dutch Shell and Italian oil major Eni have met Iranian officials in Tehran. This is the first time Western oil firms confirmed talks prior to the expected lifting of Iranian sanctions on June, 30.
READ MORE: Deal between Tehran, 6 world powers could be reached before deadline – Iran envoy
This month Shell officials visited Tehran to discuss a possible partnership and its $2.16 billion debt to the National Iranian Oil Co., after Western sanctions over Iran's nuclear program are lifted, the company said in a statement e-mailed to Bloomberg Wednesday. Shell can't pay the debt due to the sanctions.
This follows the visit of Eni CEO Claudio Descalzi to Tehran in May, which was confirmed on Wednesday.
These meetings highlight how the large oil companies are looking to return to Iran, which has the world's third biggest oil and gas reserves.
"We review our growth portfolio on a regular basis and do not exclude any countries that are open to foreign investment. Should future sanctions relief make that possible; we would be interested in exploring with the government of Iran what role Shell can play in developing its energy potential," Shell told the FT Wednesday.
The CEOs of Shell, Eni, Russia's Lukoil and France's Total, met Iranian Oil Minister Bijan Zanganeh in Vienna this month, chairman of the Facts Global Energy consultancy Fereidun Fesharaki told the FT.
Iran hopes to increase its oil production by one million barrels per day from the current three million barrels, and has appealed to OPEC for permission to re-enter the oil market as soon as the sanctions are lifted, Zanganeh said in June.
READ MORE: Talks on Iran nuclear program at 'standstill,' deadline might be extended – source
Western negotiators have set a self-imposed deadline until June 30 to seal a final deal at binding Iran's nuclear program in exchange for lifting sanctions on Tehran.
The US have been tightening the screws on Iran since 2002, trying to tackle Tehran's nuclear ambitions. In 2006, the UN Security Council introduced sanctions on Iran after the country refused to cancel its uranium enrichment program.