​Deal between Tehran, 6 world powers could be reached before deadline – Iran envoy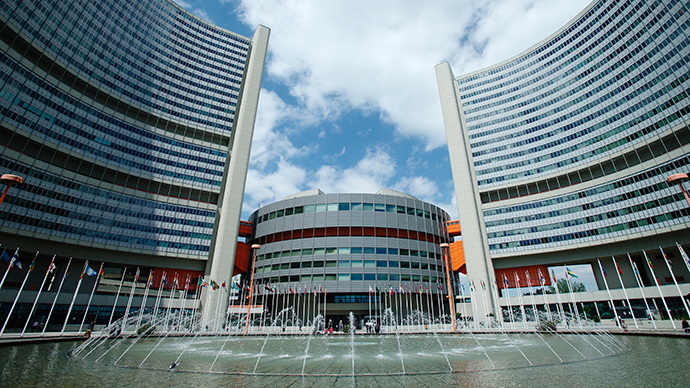 A final deal between Tehran and the six world powers could be reached before the June 30 deadline, Iran's envoy to the UN nuclear agency said. But the US still has a set of demands, insisting that Iran implement nuclear transparency measures.
"If...our interlocutors...commit to the agreed parameters, reaching an agreement by the end of June is achievable," Iran's envoy to the International Atomic Energy Agency (IAEA), Reza Najafi, told reporters after an agency board meeting in Vienna on Thursday.
READ MORE: Iran nuclear talks venues hit by $10mn 'state-sponsored' virus – Kaspersky to RT
The deal would involve Iran curbing its nuclear program in exchange for sanctions relief.
At the same IAEA board meeting, Washington urged Tehran to implement the nuclear transparency measures outlined in a preliminary deal reached with the six world powers in April.
It "remains critical for Iran to implement the provisions of Modified Code 3.1...without delay," Laura Kennedy, the US ambassador to the IAEA, told a session of the agency's governing board. The provision requires early notification from Tehran regarding the construction of any new nuclear facilities.
Kennedy also stressed it was important for Iran to implement the IAEA's Additional Protocol, which allows UN inspectors to visit Iranian sites with as little as two hours' notice, under certain circumstances.
READ MORE: Iran looks into 5-6 routes to deliver gas to EU after sanctions are lifted - gas company NIGC
That protocol also allows the agency to collect environment samples – such as soil – which can reveal information on nuclear activities, even years after they have taken place.
It comes just one day after a senior US official told reporters that the next round of nuclear negotiations will be "pretty tough" because the parties will be "getting down to the details."
"We know there will not be an agreement until we can resolve that the IAEA will be able to verify whatever way is appropriate, whatever is necessary for this agreement, and that will include having managed access to a variety of sites and places in order to get this deal done," the official added, as quoted by Reuters.
Iran and the six world powers – the US, Britain, France, Germany, Russia, and China – reached a preliminary deal on April 2 in Lausanne, Switzerland. The deal was seen as a significant step towards rapprochement between Washington and Tehran, which have had uneasy relations since Iran's 1979 revolution.
READ MORE: Military strikes won't end Iran's nuclear program – Obama
The parties are seeking a final agreement by June 30, which would result in Tehran curbing its nuclear program in exchange for sanctions relief.
An Israeli delegation is set to fly to Washington on Monday for a final round of talks with US officials about Tehran, according to Haaretz. A senior Israeli official said that one of the delegation's goals is to discuss the details of the emerging agreement, and suggest any necessary improvements.
Israel continues to insist that Iran's nuclear program is highly dangerous, with Prime Minister Benjamin Netanyahu saying last month that a nuclear Iran will be a "thousand times" more destructive than Islamic State when it acquires atomic weapons.
But Iran has also pointed the finger at Israel, insisting in April that Tel Aviv give up its "nuclear weapons." Israel has never admitted or denied the widespread assumption it has nuclear weapons.
Despite allegations from the West, Iran has repeatedly denied accusations that it is using its nuclear program to develop atomic weapons, instead insisting the program is solely for peaceful purposes.