Der Spiegel: US ousted our source in German govt, chancellery hushed up the spying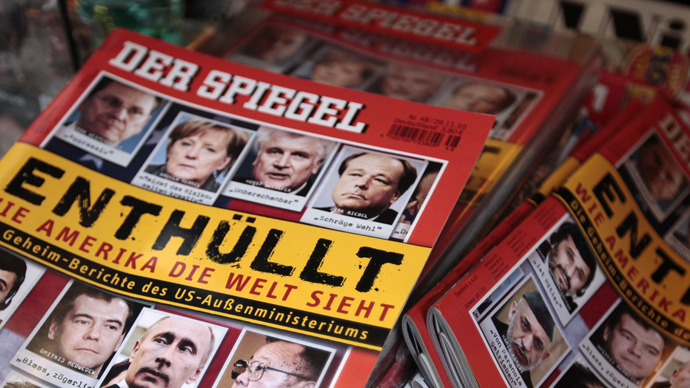 In 2011 the US had a top German counterterrorism official sidelined over his contacts with the media, and the German government failed to act in response to illegal surveillance on home turf, Der Spiegel reports.
The official was Hans Josef Vorbeck, deputy director of Department 6 in the German Chancellery. The department is responsible for coordinating the country's intelligence services, and Vorbeck was responsible for counterterrorism.
In summer 2011 Vorbeck's superior, Günter Heiss, was called to a meeting with the CIA station chief in Berlin, who told him that Vorbeck had been leaking information to Der Spiegel. After the issue was also raised in June 2011, when Heiss visited CIA headquarters in Langley, Vorbeck was quietly transferred, sidelined to work in the archive section dealing with the history of the BND, the German national intelligence agency.
BREAKING: German news magazine "SPIEGEL" targeted by intelligence http://t.co/k2pc8YwCtv More https://t.co/PGWeOwtmlb

— WikiLeaks (@wikileaks) July 3, 2015
The Chancellery, the office of German premier Angela Merkel, did not report the apparent surveillance by the US on a top German official or the magazine, Der Spiegel reported Friday. And not even the parliamentary body overseeing German intelligence services, which would have both security clearance and authority to act on arguably conclusive evidence, was informed, the magazine said.
Properly, the Office for the Protection of the Constitution, the agency responsible for counterintelligence in Germany, and the Federal Public Prosecutor would have to be called in to investigate, the reports said.
READ MORE: WikiLeaks spy scandal: Merkel summons US ambassador over new NSA claims
The magazine cited a source in the US administration as saying that Der Spiegel's source was ousted "because those communications were viewed as damaging to the United States' interests." Der Spiegel was particularly outraged that German authorities had sanctioned spying on the country's own journalists by US intelligence services.
The story was corroborated Saturday by CNN, which said "the incident raises many questions."
"That the US government thought it appropriate to spy on journalists doing their jobs is controversial enough. But why would it be appropriate for US officials to use these tools – given to save lives and protect US national security – to notify the German government about officials talking to reporters in the normal exercise of a free press?" CNN said.
The German magazine said the answer was clear: the Obama administration has adopted "a bad habit" of "criminalizing journalism."
"Freedom of the press is not a value that gives American intelligence agencies pause. On the contrary, the Obama administration has gained a reputation for adamantly pursuing uncomfortable journalistic sources," it said.
US surveillance programs in Europe were further exposed this week by WikiLeaks, which on Friday published a new batch of documents detailing how the NSA and the CIA jointly intercepted communications between German and French officials, using embassies in Berlin and Paris as listening posts.
You can share this story on social media: