Kuwait imposes mandatory dragnet DNA testing after mosque bombing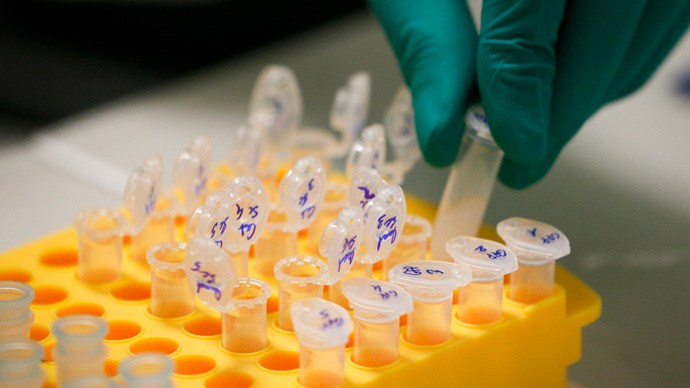 Following a deadly mosque bombing, the kingdom of Kuwait has passed a law ordering mandatory DNA testing of all its subjects and foreign residents. Violators face prison terms.
An estimated 1.3 million citizens and 2.9 million foreigners have to submit their DNA to the Interior Ministry, which was tasked with compiling a comprehensive database of people in the country. The Arab country is the first in the world to gather gene samples of the entire population, as opposed to merely storing the DNA of convicted criminals, which law enforcement in many countries do.
READ MORE: 27 dead, 227 injured in Shiite mosque blast in Kuwait, ISIS claims responsibility (VIDEO)
Special funding of some $400 million was allocated for the creation of the database. Those who fail to submit samples face a prison term of one year and a fine of up to $33,000. Those who falsify their samples can be jailed for up to seven years under the new law.
The Kuwaiti legislature passed the draconian law in response to the bombing of a mosque in Kuwait City during Friday prayers on June 26, which killed 26 people and wounded 227 others. The Islamic State terrorist group claimed responsibility for the attack.
The suicide bomber was reportedly identified as a Saudi-born national, who arrived in Kuwait via Bahrain just hours before the attack.
READ MORE: Hillary Clinton's emails reveal link with Qatari royal family
Kuwait's decision is bound to spark criticism from human rights advocates. The creation of such a database would be illegal in the European Union, where the Strasbourg court of human rights ruled in 2008 that collecting DNA samples of non-criminals breaches their privacy rights.
The court's ruling forced the UK to amend its biometric retention rules, which previously allowed storage of DNA samples and fingerprints taken during the arrest of individuals if they were not subsequently charged with a crime, or they were acquitted.
The largest national DNA database is maintained by the US and includes profiles of convicted criminals, some arrestees, forensic samples, missing persons and their relatives and unidentified remains of deceased people, among others.
#Kuwait: Former MP Musallam al-Barrak has been arrested for critical speech https://t.co/uh6cVMpmPapic.twitter.com/TRTndpICP9

— Amnesty Kuwait (@AmnestyKuwait) June 16, 2015
Kuwait has other unconventional and draconian practices in enforcing its laws. For example, the kingdom may arbitrarily revoke the citizenship of someone deemed unwanted in the country, and has also launched a large-scale crackdown on those who criticize the authorities. Just two weeks ago, a high-profile member of the opposition, a former MP, was given a two-year sentence for a speech he made in 2012.
You can share this story on social media: