Russian Navy's intel ship for monitoring US ABM systems 'to start tests in 2016'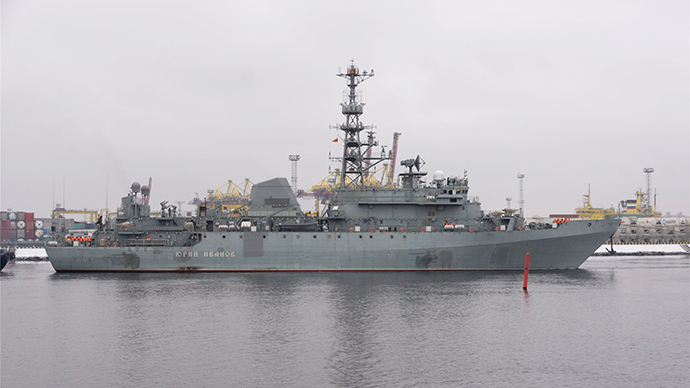 A Russian intelligence military vessel specializing, among other things, in monitoring the US missile shield, is getting ready for seagoing tests, media report. It is one of four ships that will replace outdated intelligence vessels in Russia's fleets.
READ MORE: Russian spy ship in Havana ahead of US delegation's historic visit
The construction of the intel-gathering ship Ivan Khurs (Project 18280, hull #788) is nearing an end at the Northern Shipyard (Severnaya Verf) in St Petersburg. The ship was laid down in November 2013 and its seagoing tests are expected take place in autumn 2016, RIA Novosti reported Thursday.
"The vessel is designed to provide communication and control of fleet forces, conduct electronic warfare, radio and electronic intelligence, tagging of surveillance components of the US missile defense system and naval SAM components," Anatoly Shlemov, the head of the Defense Procurement and Acquisition department of the United Shipbuilding Corporation (USC), told the agency.
In January, the ship was reported to be readying for trials already this September. However, Shlemov says the project is going as scheduled.
"Tests of the Project 18280 intelligence ship Ivan Khurs designed to collect data on the USA ABM systems will start in the third quarter of 2016," RIA Novosti cites Shlemov as saying.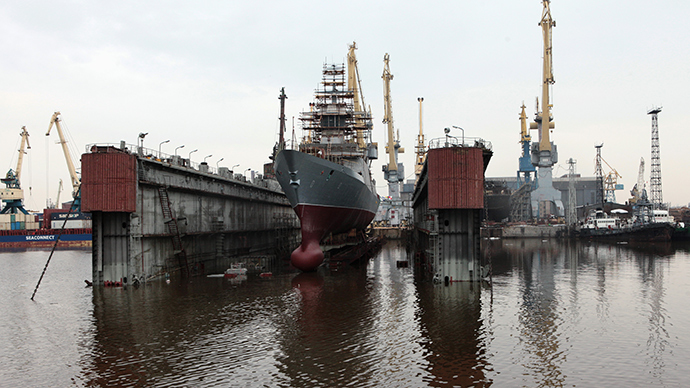 Project 18280 vessels are state-of-the-art intel and comms ships designed by Iceberg Central Design Bureau and the Severnaya Verf shipyard. One vessel is being built for each of Russia's four fleets.
READ MORE: 'Russian spy ships' loitering off UK coast, claims ex-Navy chief
Project 18280 vessels feature high versatility, automation and integration of onboard systems. A ship of the series has a displacement of about 4,000 tons, shiplength of 95 meters and extreme beam of 16 meters; with draft of 4 meters. Project 18280 has a range of 8,000 nautical miles on 16 knots cruise speed and a crew of 120.
Shlemov said that Project 18280 vessels have vast pre-designed potential for further modernization of the onboard electronic equipment.
The leading ship of the series, Yury Ivanov (hull #787) was commissioned on December 30, 2014. The ship is undergoing final equipment tests and will be assigned to Russia's Northern Fleet.
You can share this story on social media: