Russian spy ship in Havana ahead of US delegation's historic visit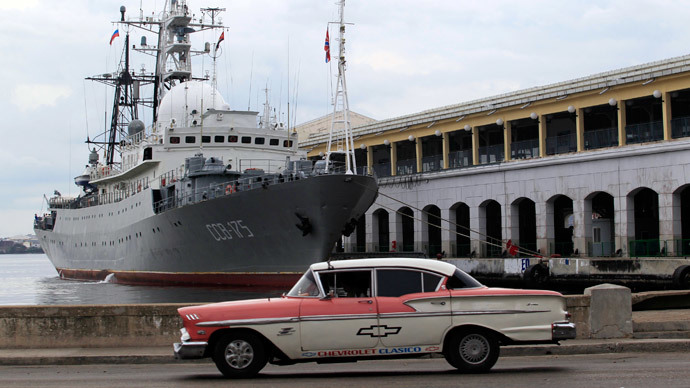 The Russian Navy's intelligence collection ship, the Viktor Leonov, has docked in Havana just a day before the arrival of an American delegation. The Russian warship is moored in open view of a pier usually used for cruise ships.
The ship's visit, unannounced by the Cuban authorities, comes as the US and Cuba are attempting to restore diplomatic ties broken in 1961.
The Americans will conduct the first official negotiations with the Cuban leadership in more than half a century.
The Viktor Leonov is part of Russia's Northern Fleet and is fitted with a wide range of intelligence equipment, a crew of 220 and high-tech electronics.
More pictures of #russiannavy Vishnya spy ship "Viktor Leonov" in Havana today pic.twitter.com/45rms0SD84

— 7FBTK (@7FBTK) January 20, 2015
"It's not unprecedented. It's not unusual. It's not alarming," a US defense official told AFP.
In 2014, the Viktor Leonov called at Havana at least twice, in February and March, and those visits were also unannounced. In April, the ship was spotted operating along the US East Coast, in close proximity to a nuclear missile submarine base at Kings Bay, Georgia, and other American military facilities in the area.
Russian intel ship Viktor Leonov has been spotted in Havana harbor. Timing of arrival might be questioned... pic.twitter.com/yqL1Oy71sg

— Leandro Oliva (@lmoliva_) January 20, 2015
The Soviet Union and subsequently Russia used to have a huge signal intelligence center (SIGINT facility) in Cuba's Lourdes, located a mere 250km from continental USA.
In July 2014, Russian President Vladimir Putin denied media reports that Russia was planning to reopen the SIGINT facility in Lourdes.
READ MORE: Putin denies reopening of US-targeting listening post in Cuba
#Cuba offers free calls home, wifi to @statedept Roberta Jacobson @WHAAsstSecty and US delegates - tks Victor Leonov pic.twitter.com/JTHusa8Xbc

— Karl Penhaul (@karlpenhaul) January 20, 2015
Embargo remains in place
The high-level talks begin in Havana on Wednesday. The US Assistant Secretary of State Roberta Jacobson is leading the American delegation, with Cuba's head of North American affairs, Josefina Vidal Ferreiro, heading the Cuban negotiators.
READ MORE: Obama's Cuba decision: 'US tries to move Russian allies away'
The talks will aim to elaborate a roadmap for putting diplomatic relations between Cuba and the US back on track, normalizing ties and re-opening embassies.
The US authorities announced plans to allow American companies to offer their services in Cuba, creating infrastructure on the island and improve communication links with mainland US. America is also likely to unblock the personal accounts of Cuban citizens and companies frozen in American banks. Foreign vessels that dock off Cuba's coasts will be allowed to call at US ports.
#Russia Vishnya-class intelligence collection ship 'Viktor Leonov' docked in Havana, Cuba pic.twitter.com/oDt8E8kQl1

— Alecto (@insananinzoka) March 2, 2014
Some revisions to the decades-old embargoes between the United States and Cuba came into effect on January 16, implementing major changes to the long-standing trade and travel restrictions between the neighboring nations.
READ MORE: New US-Cuba trade, travel rules to take effect Friday, 1st steps to end embargo
New policies, announced by the Obama administration on Thursday this week, are expected to allow American travelers within 12 categories to travel to Cuba without applying for specialized visas, alleviating restrictions that have largely excluded the US public from the island for more than 50 years.
However, the US embargo placed on Cuba in 1962 will remain in place until the US Congress votes to lift it.
READ MORE: Cuba thaw: A chance to break out from the yoke of US sanctions?
In a statement ahead of the talks, Cuba's Foreign Ministry noted that ties between the two countries could only be normalized when Washington drops the unilateral sanctions against Havana.
Cuba's official Granma newspaper acknowledged that "certain aspects of the blockade against Cuba are changing."
But they stressed the measures announced by the US authorities are "just a step in a right direction," and there is still "a long way to go," the newspaper said, as quoted by Itar-TASS.
You can share this story on social media: