Blast targets NATO convoy near Kabul Airport, US Embassy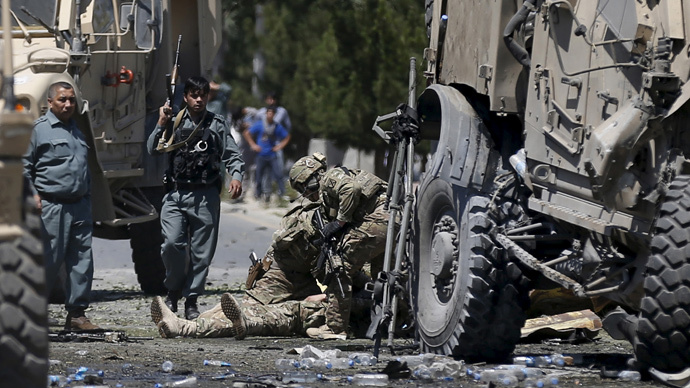 A suicide bomber has attacked a convoy of foreign troops serving with NATO on the road near Kabul International Airport, close to the US Embassy and Supreme Court, police and security officials said.
"It was a suicide car bomber. There are casualties but it is too early to know the extent of the damage," Kabul deputy police chief Sayed Gulagha told AP.
The information that NATO troops were attacked was confirmed by a spokesman for the NATO mission in Afghanistan, US Army Colonel Brian Tribus.
"We can confirm there was an attack on coalition forces. We are gathering information," he said.
The blast took place in Wazir Akbar Khan, one of the wealthiest parts of the Afghan capital, where the US and Canadian embassies and other diplomatic compounds are located.A busy shopping district is also nearby, according to AP.
KABUL BLAST: Public Health Ministry says 17 people including 3 women, 3 children were wounded in the explosion

— TOLOnews (@TOLOnews) June 30, 2015
The blast occurred not far from the local mosque and school.
The road to the airport was closed, Reuters reported, adding that witnesses saw damaged NATO vehicles following the attack.
The Public Health Ministry said that at least four people had died, and that 19 people, including three women and three children, were injured in the blast, TOLOnews reported.
Witnesses told TOLOnews that the explosion destroyed at least six civilian vehicles, and damaged nearby buildings and shops.
Pic of #Kabul Suicide bombing Targeting #NATO convoy pic.twitter.com/lS1fXfdUnR#Afghanistan

— Dr Shahid (@DR_SHAHID) June 30, 2015
@AFP photo of today's suicide attack on a convoy of foreign troops in #Kabulpic.twitter.com/DpV0QwSWhI

— Sulaiman Akbari (@SulaimanAkbari) June 30, 2015
#Breaking#Kabul Blast, near Qazi Plaza on Kabul airport road pic.twitter.com/2GTJ0UOeef

— Khalil Noori (@KhalilNoori) June 30, 2015
The Taliban claimed responsibility for the attack, saying that its targets were foreign troops, reports on Twitter said.
According to unconfirmed reports on social media, the blast killed at least nine people.
Kabul International Airport, 5 kilometers from the city center, also serves as one of the country's largest military bases.
Twitter users wrote they saw several ambulances that reportedly were transporting at least four people, either wounded or dead, from the scene of the blast. It is believed to be suicide car bombing.
READ MORE: Taliban gunmen explode several bombs in Afghan Parliament in Kabul (VIDEO)
The blast took place at the time government employees were leaving their offices at the end of the working day, which is shorter due to Ramadan, the Muslim religious holiday.
READ MORE: ISIS gains ground in Afghanistan, challenges Taliban dominance – report
The attack comes a week after gunmen stormed the lower house of parliament in Kabul, with several blasts going off inside and in front of the building. A Taliban spokesman has claimed responsibility for that attack.