​Israel considers leaving UN Human Rights Council after Gaza probe – report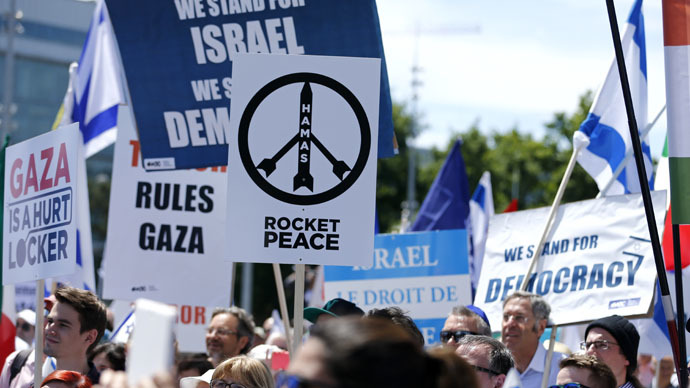 Israeli Prime Minister Benjamin Netanyahu has reportedly questioned his country's membership in the United Nation's Human Rights Council following its recent report on last summer's Gaza conflict.
The announcement, in which Netanyahu referred to the UNHRC commission as a "hypocritical committee," was made during a closed-door meeting with top Israeli officials on Monday.
READ MORE: 'Flawed & biased': Israel fires back at UN report accusing it of potential war crimes
"In light of the [UN Gaza] report, we will consider whether or not to stay in the Human Rights Council," Netanyahu said, according to Army Radio.
It's not the first time Israel has been at odds with the Council during the UNHRC's 9 year-long history. Back in 2012, then-foreign minister Avigdor Lieberman made a decision to quit the council over its probe into Jewish settlements in the West Bank. However, Israel reinstated its membership a year later.
Lieberman, who also was present at Monday's meeting, reportedly reminded Netanyahu about the precedent. "As foreign minister, I ended Israel's involvement in the Human Rights Council. Why did you change that decision?" he asked.
On Monday afternoon, about 1,000 people from several European countries, both Jews and Christians, rallied in Geneva to support Israel, as the UN Human Rights Council had another debate on the matter.
READ MORE: Netanyahu slams international 'diktats' on Palestinian-Israeli conflict
"The reason we are here today is to tell the United Nations that it needs to change. It needs to overcome its obsession with Israel. This obsession is destructive and it stands in the way of an effective human rights policy that is so badly needed," World Jewish Congress (WJC) CEO Robert Singer told demonstrators.
The UN Human Rights Council report on the 2014 Gaza conflict was released last week. It concluded that both Israeli Defense Forces and the Hamas Palestinian group had committed war crimes. The organization also accepted the Palestinian death count, which estimated that 65 percent of those killed in the seige were civilians, or 1,462 out of a total of 2,251 Palestinians killed.
"The report is biased," Netanyahu said upon the release of the report. "Israel is not perpetrating war crimes but rather protecting itself from an organization that carries out war crimes. We won't sit back with our arms crossed as our citizens are attacked by thousands of missiles."
You can share this story on social media: