​'Flawed & biased': Israel fires back at UN report accusing it of potential war crimes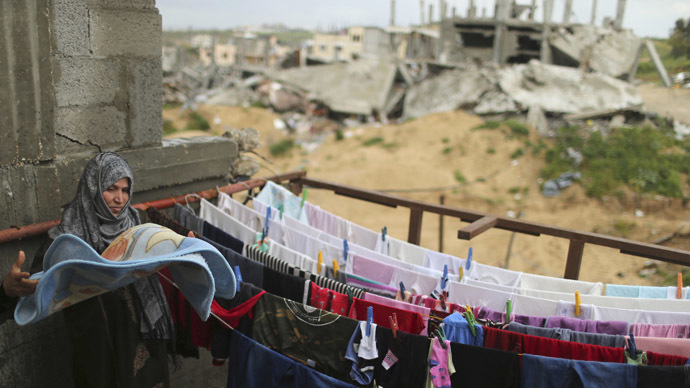 A UN report has accused both Israel and Palestinian armed groups of possible war crimes during the 2014 Gaza conflict, calling the devastation "unprecedented." Israel has fired back, calling the commission "biased" and insisting Tel Aviv acted morally.
The report – compiled by an independent United Nations commission of inquiry appointed by the UN Human Rights Council – found "serious violations of international humanitarian law" that "may amount to war crimes" by both Israel and Palestinian militants.
"The extent of the devastation and human suffering in Gaza was unprecedented and will impact generations to come" the commission's chairwoman, New York judge Mary McGowan Davis, said in a statement.
READ MORE: Ex-Israeli foreign minister avoids Gaza war crimes arrest thanks to UK diplomatic immunity
The commission determined that 1,462 Palestinian civilians were killed the Israel Defense Forces (IDF) during Operation Protective Edge, one-third of whom were children. That figure is significantly lower than previous estimates made by health officials, which reported more than 2,100 Palestinian deaths.
The report also noted that hundreds of Palestinian civilians, particularly women and children, were killed in their own homes during airstrikes. According to the commission, 142 families lost three or more members in strikes on residential buildings. Those strikes killed a total of 742 civilians.
"The fact that Israel did not revise its practice of airstrikes, even after their dire effects on civilians became apparent, raises the question of whether this was part of a broader policy which was at least tacitly approved at the highest level of government," the commission said.
A key paragraph from the UN report on Gaza war - pic.twitter.com/a6kl6Vs6Hq

— Yousef Munayyer (@YousefMunayyer) June 22, 2015
But Israel's foreign ministry said on Monday that Tel Aviv acted in accordance with international standards.
READ MORE: Activists to shut down Israeli arms factory in Gaza war anniversary protest
"In defending itself against attacks, Israel's military acted according to the highest international standards," the ministry said on Monday. It went on to say that the findings made no differentiation between Israel's "moral behavior" and the actions of Palestinian "terror organizations" during the 50-day war.
"It is well known that the entire process that led to the production of this report was politically motivated and morally flawed from the outset...this report was commissioned by a notoriously biased institution," it added, referring to the UN Human Rights Council.
Israeli Prime Minister Benjamin Netanyahu also spoke out against the findings, saying: "The report is biased. The commission that wrote it is under a committee that does everything but protect human rights."
Possible Palestinian war crimes
The report also accused Palestinian militants of possible war crimes, stating that armed groups fired 4,881 rockets and 1,753 mortars towards Israel.
Six civilians were killed in the attacks on Israel, and at least 1,600 others injured.
The report decried the "indiscriminate" firing of weapons at Israel, which it said were apparently intended to "spread terror" among Israeli civilians.
But Hamas senior official Ghazi Hamad rejected those findings on Monday, saying that its rockets and mortars were aimed at Israeli military sites – not at civilians.
Hamad told AP that the UN report created a false balance "between the victims and the killers."
READ MORE: Hamas committed war crimes, executed 'collaborators' in Gaza conflict – Amnesty UK
Although Hamas' armed wing, the Qassam Brigades, was mentioned in the report, the commission mainly refers to "Palestinian armed groups" rather than Hamas.
The report had originally been scheduled to be released during the Human Rights Council's main annual session in March. However, investigators were faced with delay after the head of the team quit under Israeli pressure.
That resignation was not enough to satisfy Israel, which continued to call for the entire inquiry to be scrapped, stating that the commission and the Human Rights Council are inherently biased against the Jewish State.
Israel released its own 277-page report earlier this month, stating that the Gaza offensive was "unfortunate yet lawful."
Operation Protective Edge was launched in July 2014, after a spike in cross-border rocket attacks by Hamas. The Israeli response was 50 days of intense shelling, airstrikes and attacks by ground troops.
You can share this story on social media: