ISIS is 'not strong,' could be defeated 'within two days' – ex-Israeli PM Ehud Barak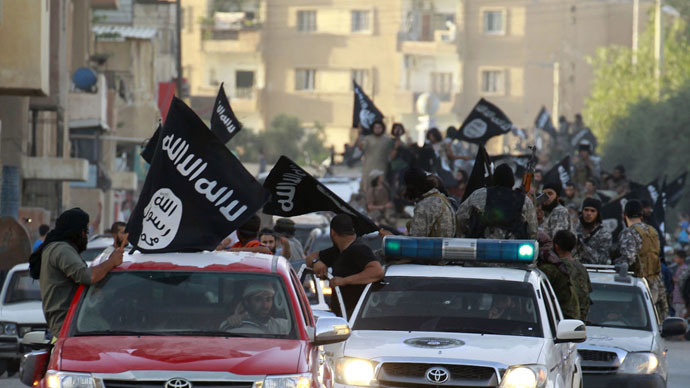 The Islamic State militant group that has been terrorizing the Middle East with its yet greatest offense for over a year, is "not strong," former Israli PM Ehud Barak told RT. With a proper coordinated response, they could be suppressed quickly, he said.
"I think that ISIS is somewhat successful because it doesn't face a coherent coordinated effort to destroy it. Technically speaking they are not strong. Some 30,000 - 40,000 people. Their vehicle is a Toyota pickup and some machine gun on it," the Israeli politician said in an interview with RT's Oksana Boyko in her Worlds Apart show.
"Probably they don't have a single aircraft, not a single helicopter," Barak, who has taken part in many combat missions and is among the most highly decorated soldiers in Israel, said.
Iraq tops 'most dangerous' place in world list http://t.co/NdV9soE3lopic.twitter.com/uNQTWZfEeP

— RT (@RT_com) June 22, 2015
IS (Islamic State, formerly ISIS/ISIL), which is believed by many to be one of the best militarily equipped forces in the region, is armed better than other local forces that are fighting it. Resultantly, Russian President Vladimir Putin recently spoke of IS as being "armed better than the Iraqi Army."
READ MORE: 'Dirty bomb': ISIS has enough material to build WMD, Australian intelligence warns
When asked whether he sees any foreign hand in the terror group's rise, the Israeli ex-Prime Minister, who also held the posts of Minister of Defense and Deputy Prime Minister in Benjamin Netanyahu's second government, said that he can't name "anyone at present who really helps them."
READ MORE: '2,300 Humvees in Mosul alone': Iraq reveals number of US arms falling into ISIS hands
"I think that with a slightly more coordinated effort ISIS could be suppressed. It's not easy, but it's not something inconceivable, they are not giant," the Israeli politician told RT, adding that perceived IS operational capacities are an "overstatement."
READ MORE: ISIS extremists blow up 2 historic shrines in Palmyra, Syria
"Basically what they faced in Ramadi [a city in central Iraq, captured by IS] and in other places in Iraq is that army doesn't want to fight. When army doesn't want to fight, you don't need great expertise to win," Ehud Barak said, adding that "ISIS never fought a real kind of battle."
The only strong resistance force they've met was in Kobani from Kurdish militias, the politician said. According to Barak, it was the Turks with their hundreds of years of "reign" in the region and "a lot of experience" who had described "the right approach to ISIS in Syria."
"The Turks proposed the following: We are ready to cooperate with Americans against Daish, but we want you not to forget Assad. We can not win over Daish and make Assad much more happy," the Israeli politician explained.
"If Turkish divisions on the border went into Kobani, it would be over within two days," he concluded.
You can share this story on social media: