'2,300 Humvees in Mosul alone': Iraq reveals number of US arms falling into ISIS hands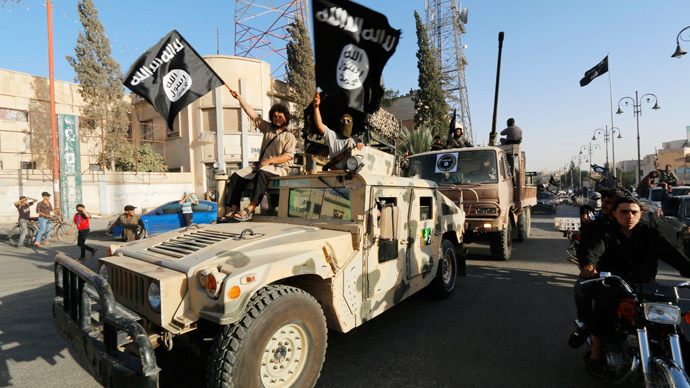 Iraq has admitted that ISIS jihadists captured huge caches of US-made weapons, including thousands of Humvees seized from Iraqi forces retreating from Mosul last year. The spoils of war have since then been used by ISIS to gain ground in Iraq and Syria.
"In the collapse of Mosul, we lost a lot of weapons," Prime Minister Haider al-Abadi said in an interview with Iraqiya state TV. "We lost 2,300 Humvees in Mosul alone."
Yep, a whole truckload of #Iraq army Hummers captured by ISIS and on their way to #Syria: pic.twitter.com/BLqcbhnL52

— Aymenn J Al-Tamimi (@ajaltamimi) June 13, 2014
Islamic State (IS, formerly ISIS/ISIL) captured Iraq's second city of Mosul in June 2014, as government forces retreated from the country's Sunni stronghold.
READ MORE: 'US air campaign against ISIS creating more jihadists'
The number of potential heavy and light weapons abandoned by Iraq's army remains unknown but over the past decade the US sold thousands of the armed vehicles to the Iraqis, in addition to tanks and other military hardware.
2,300 HMMWVs = $1,150,000,000 of US taxpayer funds lost to IS. Not counting ammo, tanks, artillery. https://t.co/TWK3UKtmDt

— Ali Khedery (@akhedery) May 31, 2015
Just this month the Pentagon estimated that at least half a dozen tanks were abandoned when Baghdad forces lost Ramadi, in addition to artillery pieces, and some 100 Humvees.
READ MORE: ISIS declares war on Shias on Arabian Peninsula – monitoring group
Meanwhile the US approved new arms deliveries to the Iraqis last December to replenish the stock ransacked by IS. One contract allows the sale of 175 heavy M1A1 Abarams worth $12.4 billion, while another approves the delivery of 1,000 Humvees, equipped with M2.50 caliber machine guns and MK-19 40mm grenade launchers.
They are exactly the types of weapons IS used to gain vast amount of territory both in Iraq and northern Syria. In fact, the first use of US-Humvees on Syrian territory was reported last year shortly after Mosul has fallen to jihadists.
In mid-May IS gained control of the capital of Anbar province where Iraqi forces had held out against militants for more than a year. They also secured control of Palmyra in Syria, carrying out many executions.
US intelligence points to growing IS strength
Meanwhile on Sunday CIA Director John Brennan acknowledged that IS gains in both Iraq and Syria did not really come as a surprise to the intelligence community.
Photos showing weapons sized from retreating Iraqi Security Forces north of Baghdad. pic.twitter.com/fD3D8SceWb

— Iraqi Weapons (@iraqiweapons) May 31, 2015
"I went back over the intelligence of last week, taking a look at what we knew and when we knew it about ISIS and its movements inside of Iraq and Syria," Brennan said in an interview on CBS' Face the Nation. "We saw a growing strength."
READ MORE: 'Ditch double standards!' Russia seeks united anti-ISIS front after Palmyra massacre
He attributed ISIS success to "a lot of factors" on the ground that came into play, in particular the lack of leadership in some Iraqi units and logistic support needed to fight extremists.
While the Iraqi troop's failures could have looked as a "lack of a will to fight," Brennan says in fact "there has been a fair amount of intelligence about the growing capabilities of ISIS as well as the challenges that beset the Iraqi government."
READ MORE: Iraq Diary Day 10: 'The US calling us terrorists is an honor'
The Humvees' fall into the hands of IS has become a turning point in the group's war against the government forces in Syria, Dan Glazebrook, a political writer and journalist, told RT.

The vehicles "gave this massive boost to the forces of ISIS, who then stepped up their war against Syria. And don't forget that the war in Syria up until that time… the initiative and the momentum had very much been with the Syrian government," Glazebrook stressed.
READ MORE: 'US is using ISIS like an attack dog'
What happened in Mosul last year "fits in with the overall trajectory of British and US policy of backing these kind of [sectarian] forces," he added.

The writer stopped short of saying that the whole Humvee affair could have been orchestrated from abroad, stressing that military hardware and ammunition "does get left during conflict… not every incident in this war is necessarily by design." However, Glazebrook said he believes the conflict is a part of the West's policy of destabilizing developing countries, and that Libya and Syria are part of this strategy.

"The West's strategy of using these sectarian 'death squads' to destabilize and destroy the societies of the Middle East and North Africa to prevent them acting as independent powers, acting in unity… this strategy is actually aimed at the Global South as a whole, it's part of the war against the rise of the BRICS countries," Glazebrook said.
You can share this story on social media: