Leaked NSA intercepts: Hollande feared Grexit fallout, held secret meeting 'behind Merkel's back'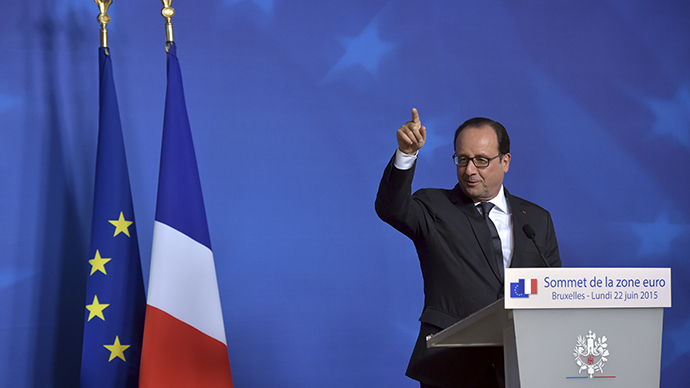 Fearing the potential impact of Greece eventually exiting the Eurozone on the French economy, President Francois Hollande held a secret meeting with the German Social Democratic Party leaders behind Angela Merkel's back in 2012, NSA intercepts show.
The NSA intelligence report, released by the WikiLeaks in the first batch of the new Espionnage Élysée collection, reveals that during his early days in the office, the French leader was worried about German Chancellor's "intransigence" on the Greece crisis – and decided to hold secret talks with the leaders of the Social Democratic Party.
READ MORE: 'Espionnage Élysée': WikiLeaks claims NSA spied on Hollande, Sarkozy and Chirac
"Hollande stressed that the meeting would be secret," the intelligence report dated May 22, 2012 says. The agency's comments suggested that Hollande seemed "worried that if word were to get out that Paris is seriously considering the possibility of a Greek exit, it would deepen the crisis."
Hollande "complained that nothing of substance was achieved" during his talks with Merkel, so he decided to invite SPD Chairman Sigmar Gabriel to Paris for talks, according to the document.
The authors of the intelligence report noted that the French PM at the time, Jean-Marc Ayrault, warned Hollande of possible "diplomatic problems," referring to what could happen if the meeting is not kept secret and "German Chancellor Angela Merkel finds out that Hollande is going behind her back to meet with German opposition."
German stance on the Greek crisis "made Hollande very worried for Greece and the Greek people, who might react by voting for an extremist party," the intercept reads.
READ MORE: Greek debt crisis LIVE UPDATES
Greece's new government and its lenders have meanwhile been gridlocked in talks over the country's €240-billion debt for about six months. Fears of Greece defaulting are causing a run on the banks, with people withdrawing record amounts of deposits. Greece's left-wing government however expressed confidence on Tuesday that parliament would approve a debt deal with creditors.
There were no immediate comments from Merkel's offices regarding the latest revelations provided by Wikileaks to France's Liberation daily and the Mediapart investigative website. The cache of documents also included intelligence summaries of conversations between French leaders, their countrymen and foreigner officials on critical issues, including the dispute between Paris and Washington over US spying.
In response to the new revelations, Hollande plans to convene a meeting with top defense advisers on Wednesday to "evaluate the nature" of the leaked information and "draw useful conclusions," the President's office said.
Meanwhile Sarkozy's aide stated, that the former French leader considers spying unacceptable, according to AP citing the aide.
Yet the US National Security council said that they have no comment on "specific intelligence allegations," but stressed that as a general rule they do not spy on leaders.
"As a general matter, we do not conduct any foreign intelligence surveillance activities unless there is a specific and validated national security purpose," the statement reads. "This applies to ordinary citizens and world leaders alike."