'Totally betrayed': Greek pensioners protest against austerity deal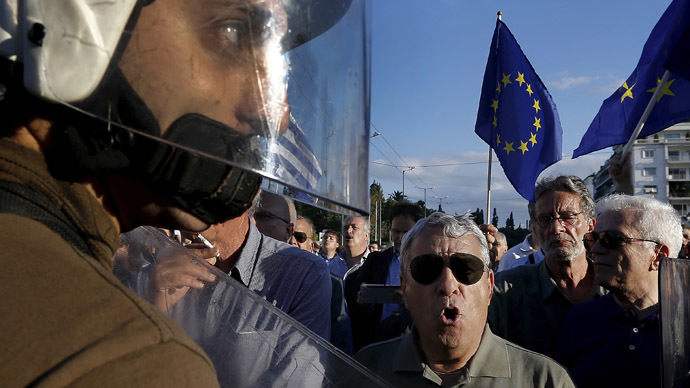 Angry pensioners have hit the streets of the Greek capital, protesting against the reports of a new austerity plan being ushered onto them. It comes as Greece and its lenders debate the nation's €240 billion debt.
FOLLOW RT'S GREEK DEBT CRISIS LIVE UPDATES
Demonstrators say they feel betrayed by the measures of the upcoming deal, which, according to AP, suggests increasing the contributions that employees pay for pensions, and phasing out the right to early retirement. It does, however, spare any cuts to pensioners' incomes.
Pensioners out on the streets protesting.. Who's listening? #Athens#Greecepic.twitter.com/dWsrI0j9c5

— Theopi Skarlatos (@TheopiSkarlatos) 23 июня 2015
Around 70 buses reportedly arrived in Athens on Tuesday, full of pensioners eager to protest against the proposed deal.
"We feel totally betrayed, totally disappointed, that this government is continuing the cut-throat policies that every other government also enforced. What we are seeing are countless indirect and direct taxes that, once again, the little man on the street will be forced to carry," 75-year-old Manolis Rallakis, general secretary of the federation of Greek pensioners, told the Guardian.
"Pensions have been cut by between 60 and 40 percent and now they want more with additional income for health care and the like, services that we paid for all our working lives through contributions to funds. It is outrageous ...why should we go on paying the price?" Rallakis added.
But the plan, submitted on Monday, is being seen as a turning point for those involved in the talks, following about six months of gridlock surrounding the country's €240 billion (US$268 billion) debt.
Angry pensioners have descended from all over #Greece. Organisers say at least 70 coaches have arrived in #Athenspic.twitter.com/rK9sG5NzBo

— Nanette van der Laan (@NanettevdLaan) 23 июня 2015
"The basis of a deal has been assembled," French President François Hollande said, as quoted by The Wall Street Journal.
European Council President Donald Tusk called the new Greek offer "the first real proposals in many weeks."
Greece's creditors want to slash €1.8 billion ($2 billion) in pension spending in exchange for €7.2 billion ($8 billion) in bailout loans. The country needs the loans urgently, as it faces a debt repayment on June 30 that it cannot otherwise afford.
Pensioners have flooded the streets of #athens from all over #Greece, main demand: no more austerity.. pic.twitter.com/UR4Ffeo5gf

— Janine Louloudi (@janinel83) 23 июня 2015
But the country's state-funded system has already witnessed big cuts – an average of 40 percent since the financial crisis began in 2009, according to one government estimate.
Still, finance minister Yanis Varoufakis said earlier this month that the pension system still remains unsustainable, despite the previous cuts.
Angry pensioners came to Athens from all over Greece to protest. I've heard about 70 buses bringing people in... pic.twitter.com/7gZ1tMVyur

— Ivana Kottasová (@IvanaKottasova) 23 июня 2015
"We want to reform it ... [but] pensions have already been cut by 40 percent. Forty percent! Is cutting further a reform? I don't think it is a reform. Any butcher can take a clever and start chopping things down. We need surgery," he said at a conference in Berlin, as quoted by AP.
Major reform took place in 2010, when the official retirement age was raised to 67 – from 65 for men and 60 for women. Pension funds were also merged at that time.
Nearly 45 percent of Greece's 2.5 million retirees now live on incomes of less than €665 ($742) a month – below the poverty line defined by the EU. Over half that number fell below the threshold at the start of the crisis in late 2009.
Both sides are aiming for an agreement by Wednesday night.
You can share this story on social media: