​'Go home!' Japan PM heckled over US bases in Okinawa during WWII ceremony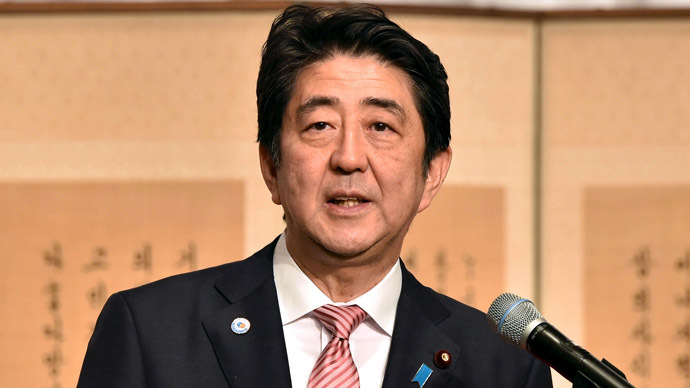 Japan's Prime Minister Shinzo Abe was heckled on Tuesday, as citizens expressed their discontent with the United States' continued presence in Okinawa. The jeers took place during a ceremony to mark the 70th anniversary of the Battle of Okinawa.
As the prime minister approached the podium, voices could be heard shouting "What are you doing here?" and "Go home!" The cries from the 5,000-strong crowd resulted in a visibly flustered Abe.
Carrying on with his planned speech, Abe told the audience that "people in Okinawa have long been asked to carry a big burden for our security," adding that "we will continue to do our best to reduce [it]."
READ MORE: Abe's views on WWII risk 'disgracing honor of Japanese people' - former leaders
However, Abe did stress the government's decision to keep a US Marine air station in Okinawa, moving it to another part of the main island – something that Okinawa's governor, Takeshi Onaga, is strongly against.
Onaga was met with applause by the crowd as he used the opportunity to denounce the "heavy burden" of US bases in Okinawa.
"We strongly demand that the government cancel construction [at] Henoko and review its policies of reducing Okinawa's base burden once again," Onaga said.
Last month, thousands of residents marched across Okinawa and mainland Japan to protest against the planned relocation of the base.
Onaga went on to explain that "seventy-three-point-eight percent of US military facilities [in Japan] are still concentrated in our prefecture, which makes up only 0.6 percent of the country's land area."
The main island of Okinawa is home to around half of the 50,000 US troops in Japan. Residents have been known to complain about crime, noise, and other issues related to the bases.
READ MORE: US to extend its cyber defense to Japan
The Tuesday ceremony was held to remember more than 200,000 people, many of them civilians, who died in the 82-day Battle of Okinawa – one of the bloodiest battles of World War II.
Those attending the memorial, including US Ambassador Caroline Kennedy, observed a moment of silence at the Peace Memorial Park.
It comes just one month after Abe's cabinet approved legislation authorizing Japan to expand its military capacity beyond self-defense, allowing it to play a greater international role.
Critics say the move runs counter to the pacifist constitution signed by Japan after its defeat in World War II, which banned the use of force as a means of settling international disputes.
You can share this story on social media: