French Muslim grocery sparks outcry by introducing male & female shopping days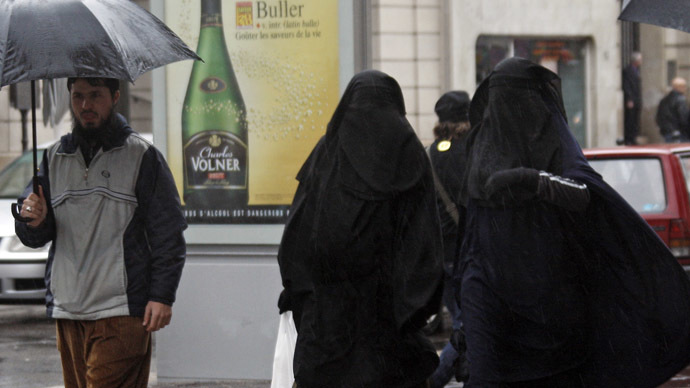 A grocery store in Bordeaux has caused a furor among local residents after the store's owners, who are newly converted to Islam, reserved gender-specific days for its customers to make sure that men's and women's paths never cross.
The "De L'Orient à L'Occidental" grocery in Bordeaux has put a sign on its front door saying that "sisters" can only shop during the weekend, while "brothers" are welcome at the store twice as often – on Monday, Tuesday, Wednesday and Friday. Bordeaux Mayor Alain Juppé has condemned the initiative, calling it "unacceptable," and saying it "totally contradicts the republic's rules of equality and diversity."
The mayor has called on the authorities to "address this issue in order to stop such discriminatory practices and implement measures, which the law provides in such circumstances,"LePoint.fr reported. Discrimination cases can see penalties of up to three years in prison and fines of up to €45,000.
The head of French equality group ACSE, Naima Charai, wrote on Twitter that gender-related opening hours are "unimaginable and unacceptable," adding that "respect for the republic" is supposed to be 24/7.
Une épicerie musulmane à Bordeaux instaure des jours d'ouverture 100% hommes et 100% femmes... http://t.co/XmzXgprHQopic.twitter.com/PZbOMlLsLI

— Politicalement (@Politicalement) 22 июня 2015
The owner of the business, Jean-Baptiste Michalon, has defended his move, telling French newspaper Sud Ouest that he "didn't know it was forbidden" by law. "It was for a savvy public that knows that our practice of [Muslim] religion does not allow the mix."
"It's not an obligation, everyone does what he wants," said Michalon, a recent convert Islam who has taken the name Yahya. The grocery store sells religious books, some traditional clothes and food. Michalon runs it with his wife Soumaya, who also recently converted to Islam (her name used to be Jessica).
"We have put it in place at the request of the 'sisters' who preferred to shop when my wife was behind the counter (...) This is a store which also sells clothes," he explained. "It shocks me to hear some calling it discrimination," Michalon told the Sud Ouest paper, citing the existence of "hammams with timetables for men and women."
Jean-Baptiste s'appelle maintenant Yahya. Il s'occupe de l'épicerie musulmane "De l'Orient à l'Occident" à Bordeaux. pic.twitter.com/JCP7gjBCqe

— Fabrice Robert (@_fabricerobert) 23 июня 2015
The grand imam of Bordeaux, Tareq Oubrou, appeared to be among those who slammed gender-related opening hours at the "De L'Orient à L'Occidental" grocery store.
"We never saw that at the time of the Prophet! The markets were mixed," Oubrou told France 3 Aquitaine, adding that the practice of gender-specific days for customers "seemed a bit odd in a world where diversity is an established culture."
According to the imam, it was more like the owners' "psychological than theological choice."
The deputy mayor of Bordeaux on equality-related issues and citizenship, Marik Fetouh, told 20 Minutes that "we cannot but condemn this type of practice."

"It's the first time we've seen something like this in Bordeaux," he said. "Even if this is a very limited phenomenon, it is problematic, not least because it gives a bad image of the Muslim community, which as a matter of fact respects 99 percent of the laws of France."
Jean-Baptiste Michalon has told France Bleu Gironde that he withdrew the sign for gender-specific days for customers after the outcry. "I thought it was more practical," has said. "A woman uncomfortable with men, it's my wife who comes to serve her. A man and a woman can get to know each other and this can result in adultery. It is an incitement to sin.
But I did not expect all this: people say it is discriminatory, I do not want to be against the law," Michalon said.