Hitler's drawings of fairytale castles, flowers sold for $450,000 at Nuremberg auction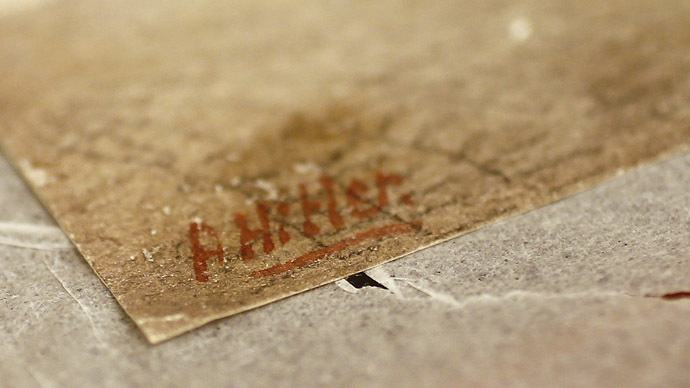 Watercolors and drawings by Adolf Hitler made in the early 1900s have been sold for about 400,000 euros ($450,000) at an auction in Nuremberg, Germany.
The 14 controversial pieces of art ranging from images of ornate German castles and Austrian churches to still life were sold at an auction organized by the Weidler Auctioneers of Nuremberg this weekend.
The most expensive watercolor was of King Ludwig II's Neuschwanstein Castle in Bavaria, which fetched €100,000 (nearly $114,000) from a buyer from China, DPA news agency quoted the auctioneers as saying.
Several paintings by Adolf #Hitler were auctioned in Germany.Drawing of Neuschwanstein castle sold for 100.000 Euros. pic.twitter.com/TMmYVmJRrL

— Laura Schneider (@alauraschneider) June 20, 2015
Hitler's drawings and watercolors of still life brought €73,000 (nearly $83,000). Other works, all painted between 1904 and 1922, include a drawing of a nude and city landscapes.
According to the auction catalogue most of the pieces were signed as "A. Hitler." However, Germany's Frankfurter Allgemeine Zeitung (FAZ) reported that "countless forgeries [of Hitler's artworks] exist."
The auction house has kept the name of the buyers anonymous, saying only that they were investors from China, France, Brazil, Germany and the United Arab Emirates.
"These collectors are not specialized in works by this particular painter but rather have a general interest in high-value art," Kathrin Weidler, of the auction house, told DPA.
Before serving as a soldier in the Germany Army in World War I, Hitler aspired to become a painter. However, he was twice rejected by the Vienna academy of art, failing the entrance exams. However, the professors suggested that he should apply to Academies School of Architecture, which he never did.
Though experts have argued that his paintings skills were poor, Hitler's works have fetched rather large prices at previous auctions. Among the highest was a watercolor of the old registry office in Munich, sold for €130,000 (nearly $150,000) at an auction in Nuremberg on November 18, 2014.
Under German law, Hitler's artworks can be sold as long as they don't display Nazi symbols.