Under siege: Assange marks 3rd anniversary in London's Ecuador embassy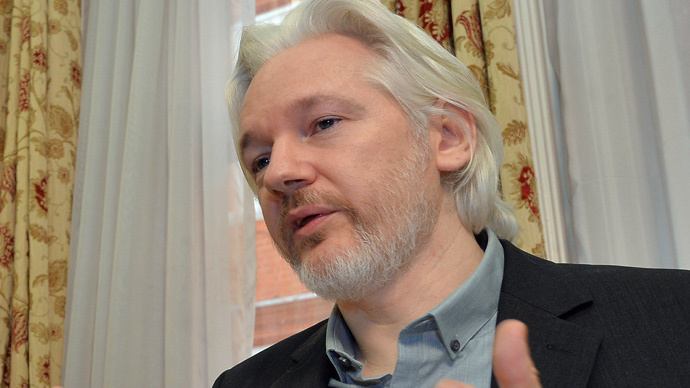 Wikileaks founder Julian Assange is marking three years in the Ecuadorian embassy in London, which he has not left since 2012. Wanted in Sweden over sexual assault accusations and in the US over WikiLeaks revelations, he risks extradition if he leaves.
Australian Assange, 43, sought asylum in the embassy as he fears that his extradition to Sweden on suspicion of rape and sexual assault may lead to his transfer to the US, where he will face trial over WikiLeaks' publication of classified US documents.
On his first and second anniversaries in the embassy, Assange spoke to his supporters from the embassy's balcony. He had to skip it this time as he was expecting Swedish prosecutors to question him over the allegations of sexual assault.
In 2011, a European warrant was issued for Assange's arrest by Sweden over allegations of rape and sexual assault brought by two women. The Swedish investigation still remains at the "preliminary investigation" phase, however.
Ordered to appear in Swedish court for questioning in the past few years, Assange was unable to attend as he could not leave the embassy. Should he do so, he would have been arrested immediately and then extradited.
A salute to Julian #Assange today as he marks 3 years as a refugee in the Ecuadorian Embassy, London. And mad props to #Ecuador. @wikileaks

— JuiceRapNews (@JuiceRapNews) June 18, 2015
Assange denies Sweden's accusations and calls them politically motivated, claiming that the initial goal of this legal process consists in transferring him to the United States.
In March, the Swedish director of public prosecutions, Marianne Ny, agreed to question Assange on the embassy's soil as the allegations of sexual assault reach the statute of limitations in August.
However, the appointment was canceled on Wednesday as the Ecuadorian authorities had not yet granted official permission for prosecutors to enter the embassy.
READ MORE: Assange calls Swedish prosecutors 'reckless' after Ecuador embassy interview falls through
Assange condemned Swedish investigators by calling their actions "last-minute scrapping of Wednesday's planned interview with prosecutor Marianne Ny", as reported by AFP.
"To behave in such a way seems reckless and it is hard to imagine that it was more than a public relations exercise," Assange said.
Assange has compared living at the embassy to life on the space station, as he has no access to fresh air or sunlight because the embassy has no garden as well as no outdoor area.
"He has not seen the sun in three years as the embassy has no outdoor area," WikiLeaks said. "His rights have been severely abused."
His room is divided into an office and a living area. He has a treadmill, shower, microwave and sun lamp and spends most of his day at his computer, AFP reports.
Julian #Assange has been in the Ecuadorian Embassy #3years2long. Here are some other significant numbers... pic.twitter.com/RXzgeJgOBh

— Bean (@SomersetBean) June 19, 2015
Under UN Standard Minimum Rules for the Treatment of Prisoners those imprisoned should be granted at least one hour of exercise outdoors each day. Ecuador has requested to afford Julian Assange outdoor exercise without risking his political asylum, but the UK has refused.
The UK police has been posted on day-and-night duty outside the embassy since Assange has sought asylum there and this surveillance measure has already cost London police £11,1 million (over 17 million dollars)
The Metropolitan Police has told The Telegraph that the figure included £6.5 million of the so-called "opportunity costs" plus another £2.7m of additional costs such as, for example, police overtime and £1.1m goes for "indirect costs" such as administration.
READ MORE: Western ISIS adventurism, Israel behind Hamas - new Assange revelations
Following the WikiLeaks publication of classified US military and diplomatic documents in 2010, Assange has been deprived of freedom altogether for nearly five years. He served a term in prison, then under house arrest and in the embassy, although no actual charges have been brought against him.

In February 2010, the US commenced an espionage investigation against WikiLeaks and Assange seeking to prosecute him under several US federal laws, including espionage and conspiracy.
In June 2014, 56 international human rights and free media organizations signed a letter calling on the US government to end all criminal investigations into Assange's actions as editor-in-chief of WikiLeaks.
You can share this story on social media: