Bad-tempered Yemen peace talks descend into fistfight (PHOTOS)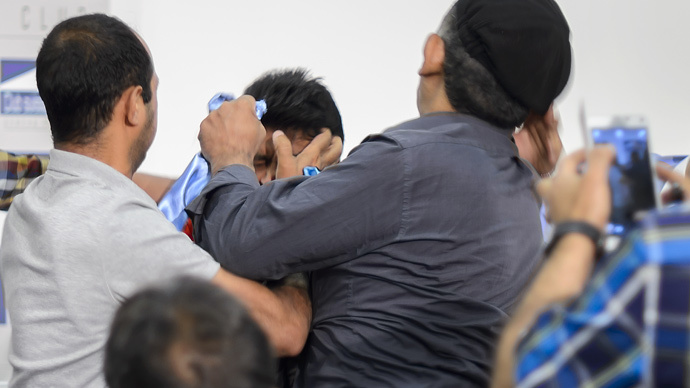 The ongoing Yemen peace talks in Geneva turned violent when a fistfight broke out between the supporters of the Middle Eastern country's warring factions, serving to emphasize the problems the UN faces in trying to get them to agree on a ceasefire.
The Houthi forces who overran the country and sent the president into exile were verbally attacked by those siding with other, Sunni, elements in Yemen: there was name-calling, with the terms "dogs" and "criminals" being thrown around, and accusations of "killing the children of south Yemen." Then, a fistfight erupted, according to Reuters.
It started out as one woman in a pink headscarf took the stage and threw a shoe at the head of the Houthi delegation – Hamza Al-Houthi – a particularly severe insult to Arabs. Al-Houthi, however, is said to have stayed composed throughout the entire ordeal.
Reporters say it was too late by then – the protesters attacked the Houthi sympathizers. In the end, the attackers were the ones being escorted out.
The situation in Yemen continues to deteriorate. The fighting is continuing, with tribal sources reporting 30 dead on Thursday alone, while the weekend deadline for an agreement between the rival groups is fast approaching. But no progress whatsoever has been reached on the ceasefire the UN has been promoting.
READ MORE: Saudi Arabia rejects all-inclusive arms embargo on Yemen proposed by Russia
Yemen's conflict has also garnered a reputation for being essentially a proxy war between the predominantly Shia Iran and regional Houthi elements, with accusations flying between the two of trying to destabilize peace efforts.
Saudi Arabia continues to blast Iran over its alleged involvement, while coalition airstrikes try to break Houthi influence on the capital and elsewhere, without much success. But while the Shia Houthis are continuing to be portrayed as the key evil here, Al Qaeda and Islamic State (formerly ISIS/ISIL) – both Sunni and very dangerous – are being spared the same rhetoric.
READ MORE: West, Arab states only pay 'lip service' to Yemen humanitarian aid – Churkin
Meanwhile, the people of Yemen continue to suffer. Four car bombs were set off in the capital Sanaa on Wednesday, all striking mosques, killing two people and wounding a further 60, according to medical sources speaking to state news agency Saba.
Islamic State claimed responsibility for the bombings.