E-Rifle: New device connects Kalashnikov rifle to internet, GPS, GLONASS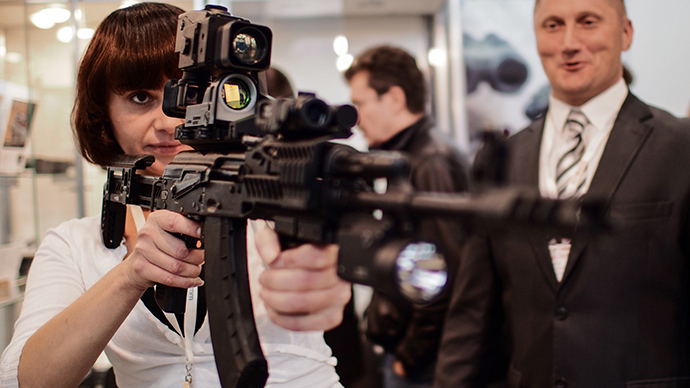 The legendary Russian Kalashnikov rifles can now be now equipped with a special module to monitor the status and movement of military personnel or receive useful information during training and transmit the encrypted data via internet.
READ MORE: Flying truck, back-arching all-terrainer: Russia shows off military and special vehicles

This device is the first of its kind for the rifle according its developer Red Heat, and StarNet Alliance, a company which specializes in the Internet of Things.

The technology was presented Tuesday at the Army-2015 expo outside of Moscow, which displays the newest cutting edge weapons and military equipment.
READ MORE: Unprecedented Army-2015 military expo kicks off near Moscow (VIDEO)

Kalashnikov rifles rifle has received "new functionality due to integration of special sensors working via Internet of Things technology in the handguard of the weapons," StarNet Alliance wrote in press release.

The sensor "is powered by a common battery, and transmits all the necessary information" to the networks, which are maintained both in Russia and abroad, the company says, adding that the online module can also be maintained by GPS and GLONASS systems.

The module helps monitor the status and movement of military personnel and receives recommendations on how to improve the techniques of warfare or training.

READ MORE: New AK-74M to make debut at Moscow V-Day parade

The price of handguard with the module will be about 25,000 rubles, or 465 USD.

"According to our estimates, today there are more than 150 million AK-47 rifles. We are confident that our development will be sold on the Russian market, as well as in other countries," says StarNet Alliance.

The developers say that the new device can be used in both the military sphere and in outdoor games such as Airsoft.

Meanwhile, Russian arms manufacturer Kalashnikov Concern presented its latest prototype pistol, known as the PL-14 or 'Lebedev Pistol,' during Army-2015 forum. The weapon is still in development, but the manufacturer hopes that it will be used by the Russian military once the final product has been completed.
You can share this story on social media: