Unprecedented Army-2015 military expo kicks off near Moscow (VIDEO)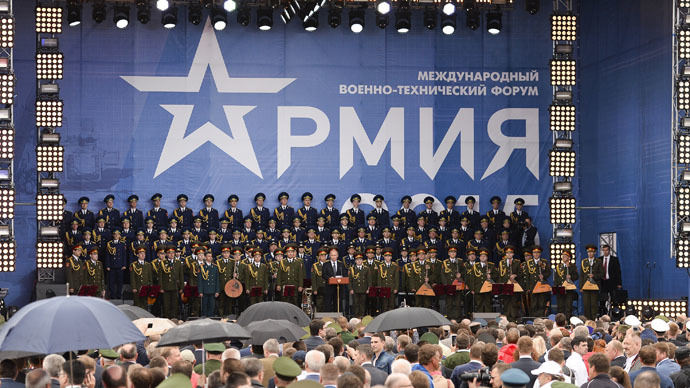 The newest cutting edge weapons and military equipment have come on display in the Moscow region, as the unprecedented Army-2015 expo and forum gets underway.
The expo is scheduled to last until Friday. On Wednesday, it opens to the general public, and anyone will be able to take a peek at the newest weapons, armor and aircraft that have been developed for the Russian military, some of which are on display for the very first time.
With some 5,000 items on display in an area including 100,000 sq meters of open space and 40,000 sq meters of pavilion space, Army-2015 is divided into 50 thematic sectors, aiming to cover all possible fields of military technology.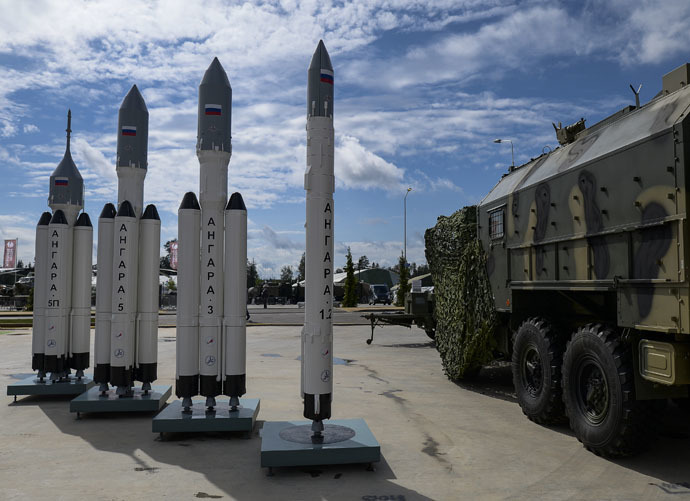 READ MORE: Russia to kill drones, missiles with 10km-range super-high frequency cannon
It shows off the newest, as well as some tried and trusted, firearms, tanks, armored vehicles and aircraft. It even includes an artificial body of water to display items built for the Navy.
There are also sections dedicated to robotics and space tech, as well as a display of "non-traditional weapons". These include things with names more suited for science fiction: laser, particle beam, orbital kinetic and microwave weaponry.
Of course, the exhibits are not all stationary. Viewers will be treated to flyovers and aerobatic stunts by combat helicopters and jets, as well as a "tank ballet" show in which ace tank crews and self-propelled artillery pieces will demonstrate their driving skills.
While Spetsnaz special forces show off some groovy dance moves on a stage.
READ MORE: Military robots to shine at 2015 Russian army high-tech expo
Drones and robots are heavily featured at the expo. There are unmanned vehicles which can be operated on the ground, in the air, on water and underwater. Their functions are wide-ranging, from minesweeping and rescue work, to reconnaissance and armed defense. Russia's Defense Ministry has developed a complex program to create and introduce new robotics technology which will span the next 10 years.
The show's overall aim is to provide a forum bringing together Russian military manufacturers and those who employ military technology in Russia and abroad.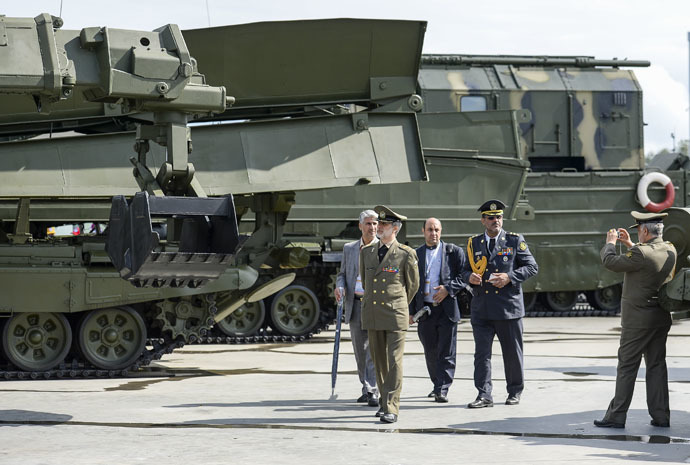 "This complex is, figuratively speaking, a defense supermarket, which other countries' militaries can visit to take a look, to try things out, take a drive or a shot, and purchase something," Russia's Defense Minister Sergey Shoigu said, according to First Channel.
President Vladimir Putin endorsed the exhibition himself, paying a visit on opening day. He said some of the items exhibited, which have no equal in other countries, are already being deployed in the Russian military.
You can share this story on social media: