​'Distant pass': Icarus asteroid to sail past Earth in closest approach for 75yrs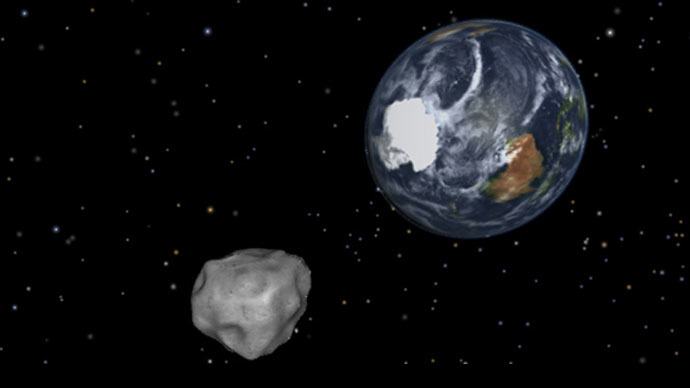 The asteroid Icarus will breeze past Earth on Tuesday at a "distant pass" of five million miles. It will be the asteroid's last fly-by until the year 2090.
Although Icarus is named after a Greek mythological character that flew too close to the sun, it's actually flying closer to Earth this time around.
READ MORE: Not quite 'Armageddon', but close: NASA to launch asteroid capture mission
But there's no need to worry, according to NASA, because the "distant pass" will still be taking place quite far away – at 21 lunar distances.
"Asteroid Icarus will safely pass by Earth at more than 21 times the distance of Earth to the moon on June 16," NASA's Jet Propulsion Laboratory said.
Icarus is expected to skim past Earth at 10 p.m. GMT.
The Slooh community observatory will provide a live stream of the asteroid's approach, using robotic telescopes and cameras. However, the space rock will be too dim to be seen through most backyard telescopes, the observatory said on its website.
Asteroid Icarus will safely pass by Earth today - about 5 million miles away. Details: http://t.co/KVYj46zslPpic.twitter.com/YOchpI0bSM

— NASA (@NASA) June 16, 2015
The asteroid's pass with Earth is significant, as it will not happen again until June 14, 2090. At that point, it will approach Earth marginally closer at a distance of about 17 lunar distances (four million miles).
In 1968, the space rock came as close as 16 lunar distances from Earth. A year prior, 'Project Icarus' was launched, in which a group of students at the Massachusetts Institute of Technology (MIT) were tasked with designing ways to deflect or destroy the asteroid if it was ever bound for a collision with Earth.
A capture of 1566 Icarus courtesy of @masi_gianluca & the @VirtualTelescop. Our post for @Senhttp://t.co/GQpKk3lrU2pic.twitter.com/7uSSm0J2hm

— David Dickinson (@Astroguyz) June 16, 2015
Discovered in 1949, Icarus was one of the first near-Earth asteroids to be detected.
The asteroid's pass with Earth comes just one week after doomsday theorists made headlines, predicting civilization would meet its demise sometime between September 22-28.
The panic prompted a statement from NASA, which said the prediction was unfounded.
"NASA knows of no asteroid or comet currently on a collision course with Earth, so the probability of a major collision is quite small. In fact, as best as we can tell, no large object is likely to strike the Earth any time in the next several hundred years," a NASA spokesperson said at the time.