French PM can't tell Pacific from Indian Ocean, despite being there
Published time: 15 Jun, 2015 19:46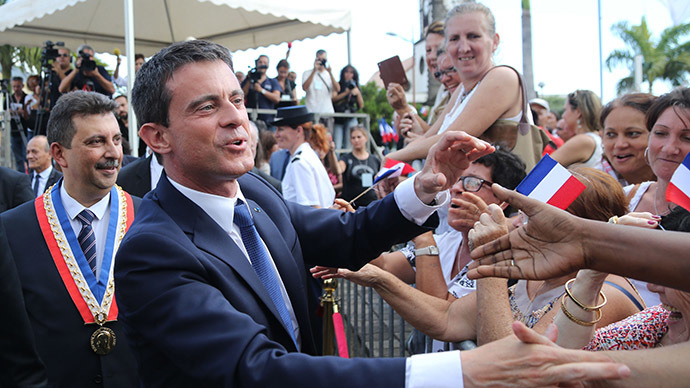 The French PM's geography blunder has caused a Twitter storm, with many mocking Manuel Valls for placing the Island of Reunion in the Pacific Ocean instead of the Indian – despite the fact he was paying visit to that very place.
"Reunion - it's the main department, it's the main region overseas, it has 800,000 inhabitants, it's a major place in the Pacific," he told the Reunion 1ere station on Thursday while visiting the French island.
One of the journalists taking the interview tried to politely correct the PM, noting in the next question that Reunion is a "major place in the Indian Ocean."
Valls' geography blunder triggered bewildered French Twitter users. Some suggested that the PM made the mistake because he had jet lag. Others said that it shows the "total ignorance" of French politicians concerning France's territories overseas.
Pas joli de se moquer de #Valls qui situe la Reunion dans le Pacifique. Avec tous ces voyages en avion, le jet lag https://t.co/yi5PFkRGAZ

— Nicolas Quint (@quintnico) June 14, 2015
La bourde de Valls qui place La Réunion dans l'océan Pacifique témoigne de la méconnaissance totale de l'outremer par nos hommes politiques.

— Xavier Ternisien (@xternisien) June 14, 2015
La réforme du collège de @najatvb parviendra-t-elle à corriger les lacunes de géographie et d'histoire sur l'île de la Réunion? J'en doute

— Valérie Debord (@DebordValerie) June 14, 2015
Glissement de terrain majeur à la Réunion. L'île se retrouve en plein Pacifique d'après l'expert Valls. lol pic.twitter.com/pWcp4oe7CZ

— ReicirRichier (@ReicirRichier) June 14, 2015
One user shared a "Who Wants To Be A Millionaire" show meme suggesting Valls chose the wrong ocean.
C'est votre dernier mot Manuel Valls ? http://t.co/qoyRprF3NEpic.twitter.com/dbINMnsBcJ

— Le Lab (@leLab_E1) June 14, 2015
It is yet one more blunder that has drawn attention to the PM in recent days. On Sunday he admitted that it was a mistake taking his two sons to the Champions League final in Berlin on a government jet last week.
"It was a mistake, a blunder. I gave the impression to the French people that I had not devoted myself to them. I am sorry," he told the Journal du Dimanche newspaper.