Russian free-rider sets world record with active Kamchatka volcano jump (VIDEO)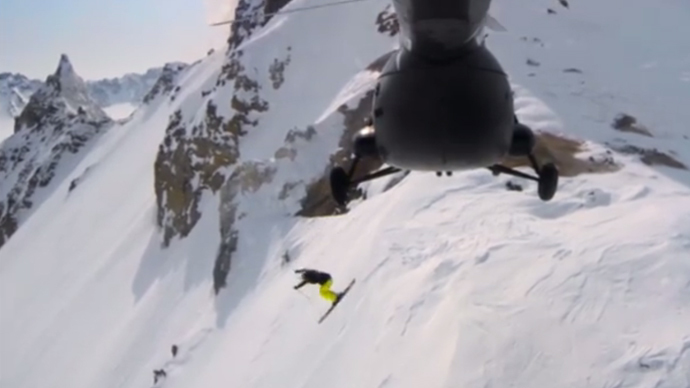 One of the world's foremost free-ride skiers and Russian champion Ivan Malakhov has set the world record for the highest helicopter jump. He did this by leaping into the crater of Kamchatka's active Mutnovsky volcano.
The Adrenaline Rush-sponsored jump looks spectacular. The chopper took Malakohv and his team right next to the mouth of the volcano, its active state only visible by the smoke billowing out from the center.
Once the countdown was over, Malakhov, with an extra camera strapped to his helmet, stepped to the edge and leapt 12.6 meters (four stories) into the unexplored mass of white, scantly marked with sharp rocks sticking out of the snow.
It was a pretty steep incline and treacherous terrain that had to be wrestled with, before Malakhov finally emerged like a hero, skis off, to the cheers and congratulations of his teammates.
This is the first time in skiing history anyone has attempted to tackle such heights.
You can share this story on social media: