Ex-IMF chief Strauss-Kahn acquitted of pimping charges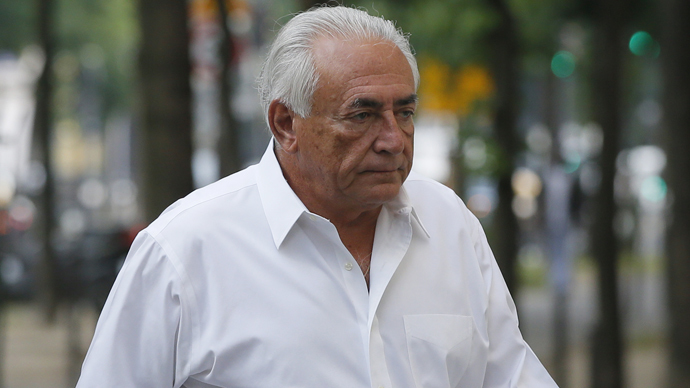 Former chief of the International Monetary Fund, Dominique Strauss-Kahn, has been acquitted by a French court on pimping charges. He stood trial over involvement with an alleged prostitution ring at a luxury French hotel.
"He cannot be attributed the role of instigator," Judge Bernard Lemaire said, while reading out the verdict. "He simply availed himself of the sexual services of a group."
Strauss-Kahn told the court that parties in the Lille hotel were just "recreational sessions," and he had been unaware that the women who took part in them were prostitutes, AP reported.
The women, who took part in the "parties" testified in the court, saying they weren't having fun during them.
This comes four years after Strauss-Kahn was accused of sexually assaulting Nafissatou Diallo, a 32-year-old maid at the Sofitel New York Hotel. The case didn't go to trial due to a lack of evidence.
READ MORE: 'More interesting with breasts': Female reporters slam sexist French politicians
During the investigation, journalist Tristane Banon came forward with a claim that Strauss-Kahn had attempted to rape her in 2002. However, that investigation was also dropped.
READ MORE: 'Your turn to be f**ked!' FEMEN attacks ex-IMF chief at his trial for 'aggravated pimping'

In 2013, French prosecutors declared that Strauss-Kahn was to stand trial on allegations of "aggravated pimping" in connection with an alleged prostitution ring operating at the Carlton hotel in Lille.
The sex allegations against the ex-IMF chief have gained considerable notoriety. A controversial film about the case, "Welcome to New York," directed by Abel Ferrara in 2014, starred French film icon Gerard Depardieu in the lead role.
Earlier, Dominique Alderweireld, one of those who stood on trial alongside Strauss-Kahn, spoke to the press.
"I think that if Dominique Strauss-Kahn wasn't involved, there would never have been a trial," said Alderweireld.
Alderweireld who reportedly runs brothels just over the border in Belgium, was accused of sending sex workers to Paris. He was also was acquitted along with his wife, Beatrice Legrain.