​Majority of Israeli Jews support segregated West Bank buses – poll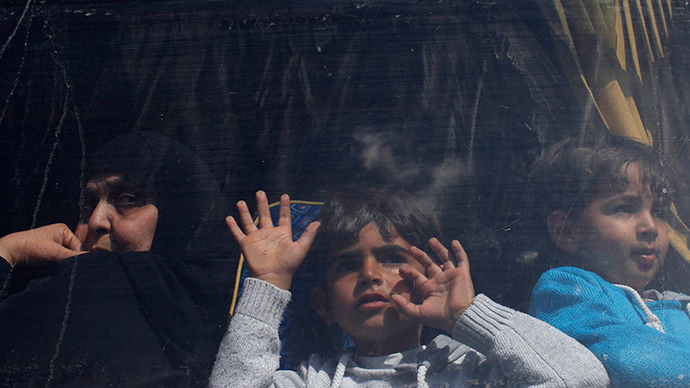 More than half of Jewish Israelis support having separate Jewish and Palestinian buses in the West Bank, according to a new poll. It comes just three weeks after a segregated bus program was scrapped following domestic and international criticism.
The findings were revealed in a monthly Peace Index poll conducted by the Israel Democracy Institute and Tel Aviv University's Evens Program in Mediation and Conflict Resolution.
READ MORE: Israeli Arab actor refusing to play in West Bank pressured by govt
The survey interviewed 600 Jewish and Arab respondents. It focused on attitudes towards Jewish settlements in the West Bank, as well as new cabinet appointments and the diplomatic arena.
It found that 52 percent of Jewish Israelis supported segregating Jewish and Palestinian passengers on West Bank buses, while 42 percent opposed the practice.
However, the survey participants' apparent support for a segregated system comes just three weeks after that very program was scrapped after just one day, due to uproar at home and abroad.
The short-lived program, launched on May 19, stated that Palestinian workers would have to return from Israel to the West Bank via the same checkpoint they left, and wouldn't be allowed to ride Israeli buses.
The leader of the left-wing Meretz party, Zehava Galon, compared the move to "apartheid" at the time, Haaretz reported.
Support for segregated buses among Israeli Jews has existed for years, especially among settlers, who claim they are necessary for safety. But others, including Israeli Justice Minister Tzipi Livni, have criticized that claim, saying Jewish settlers simply don't want to travel with Arabs on the bus.
A significantly higher number of Arabs (70 percent) expressed opposition to segregated buses.
Israel's international standing
When asked about Israel's worldwide standing, 69 percent of Jewish Israelis said they viewed it as "not good." The survey said this awareness seemed to stem from the intensification of calls to boycott Israel and its institutions.
In addition, 71 percent said "the countries of the world make demands for moral behavior on Israel that they do not make on other countries that are in situations of conflict."
READ MORE: 'We will shoot you if you do anything': Palestinians recall forced Israeli eviction
But Israeli Arabs expressed contrasting views. Fifty-eight percent felt Israel's foreign relations are "very good" or "moderately good."
This, according to the survey's authors, may stem from the Palestinian perception that the countries of the world accept Tel Aviv's policy, because they don't act against it.
The Israeli Arabs surveyed were divided on whether Israel faces a double standard in its "moral behavior." Half of all Arab respondents refused to answer the question, or didn't know how to answer.
Jewish settlements
When asked whether they would purchase a house in a Jewish settlement if they could get it at a low price, the majority of both Jews (55.6 percent) and Arabs (66.8 percent) said they would not.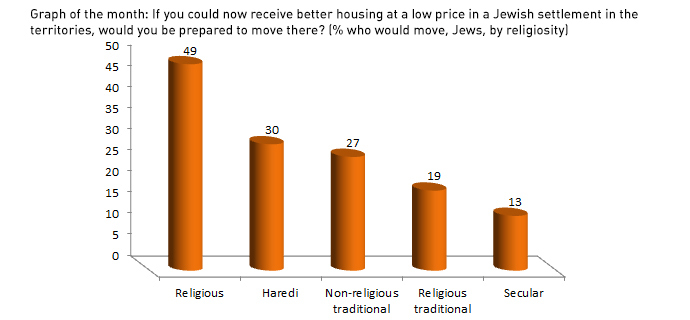 However, most Jews (79 percent) said they would buy goods produced in the settlements, even if a boycott against settlement products were to be organized. The majority (59 percent) of Arabs said they wouldn't buy such products if a boycott was organized.
Peace process
The Peace Index survey also asked whether the respondents supported the ongoing pursuit of peace talks.
Although the majority of Jews (62.5 percent) and Arabs (71 percent) said they backed talks, neither side had much optimism that an agreement would be reached anytime soon. Only 26 percent of Jews and 40 percent of Arabs expressed confidence in reaching a deal in the near future.
The poll, conducted by telephone, June 1-4, had a margin of error of ±4.1 percent.
The Peace Index Project was launched in 1994 as a joint project of Tel Aviv University and the Israeli Democracy Institute. Questions change month to month, based on current events in Israel.