​'We will shoot you if you do anything': Palestinians recall forced Israeli eviction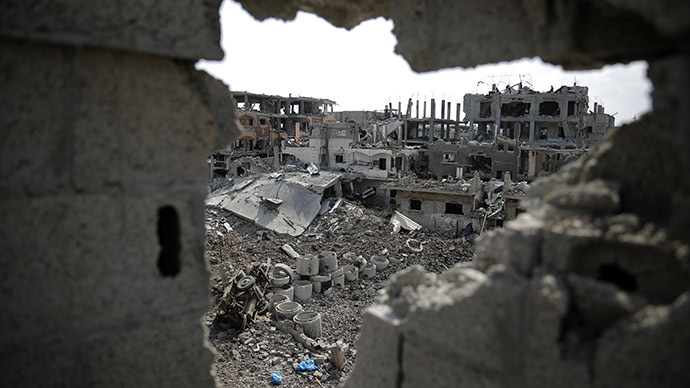 Palestinians evicted from their homes by Israeli forces spoke to RT about how they were abused and mistreated by the police as they desperately attempted to retain their property.
The family of Emad Abu Khaled was evicted Tuesday as Israeli authorities arrived to demolish two houses in the Silwan neighborhood of East Jerusalem. The forced eviction was caught on camera.
"They came to our house at 4 in the morning and told us that they wanted to destroy it, and brought two bulldozers," Emad Abu Khaled told RT. "They also threatened us with guns and said, 'We will shoot you if you do anything.' They don't care what you do, if you resist and stay inside they can demolish the building with you inside it."
Although Israeli authorities claim the construction of the houses was illegal, Palestinians say the permits are nearly impossible to obtain. Many families are currently receiving demolition orders and live in constant fear of eviction, which is often followed by violent actions.
"I got home and heard screaming. Then I saw them beating my son. I tried to stop them but they pepper sprayed me," said Samera Umm Kefah, an elderly resident of Silwan. "They threw him down the steps and 10 men attacked him. He couldn't do anything."
Israeli authorities are currently seeking the eviction of seven Palestinian families with 25 houses of Palestinian residents have already been occupied within the past year.
Clashes between police and Silwan residents who were forced to leave their homes have been going on for years. The worst spike of violence broke out in August 2010. Israeli demolition plans then triggered mass protests in which Arab residents clashed with border police, hurling stones and setting cars on fire.
On Friday, Israeli troops cracked down on a Palestinian rally in the West Bank, marking the 48th anniversary of the defeat in the six-day Arab-Israeli war.
You can share this story on social media: