Eurosceptic Italian party delivers 200,000-signature petition for exiting euro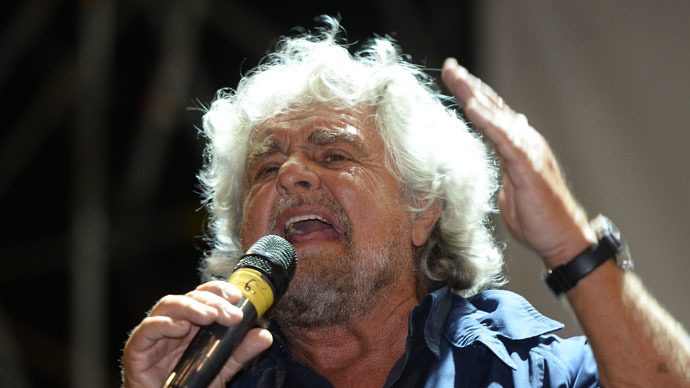 Italian Eurosceptic 'The Five Star Movement' (M5S) has filed a new petition with 200,000 signatures, calling for a referendum on the country's exit from the Eurozone and Italy's monetary future with the European bloc.
The signatures were presented to the Senate on Tuesday, according to a post by movement leader Beppe Grillo on his blog.
The movement wants a referendum by December at the earliest, and for it to be done by January 2016. The movement's main message is not an exit from the European Union, but from the euro as a currency.
From when the senate receives the signatures, "there are no more excuses," Grillo wrote on his page. He explained that the citizens and political parties have two options before them: "ignore the signatures of citizens, as has happened before, or allow them to express themselves on a topic fundamental to the economic life and social development of the country, which has never seen real debate."
He warned that there are people in parliament willing to "do battle" for M5S, and "to take care that all the stages that lead to the referendum are… observed."
"The euro referendum is a vote on the future of Italy. Do not let it go to waste!" he added.
According to M5S MP Carlo Sibila, Italy's debt increased dramatically after the introduction of the euro. He also noted that Italy's unemployment rate hovers around 12.7 percent, the sixth-highest in the EU.
"Who wants to stay in the euro? This is the main question," Sibila told RT in April, shortly after the movement hit the 100,000-signature mark.
"But we don't want to get out just like this - we want a program and a discussion, and then let the citizens decide. It's really necessary today as the situation in Italy is going from bad to worse where jobs and economy are concerned," he added.
The Five Star Movement, formed in 2009 by Grillo, a comedian and activist, finished second in the 2014 European Parliament election with 21 percent of the vote. Italy joined the Eurozone in 1999, and the currency was introduced into circulation three years later.
You can share this story on social media: