Nudist tourists held in Malaysia for making 'mountain spirits mad,' sparking deadly quake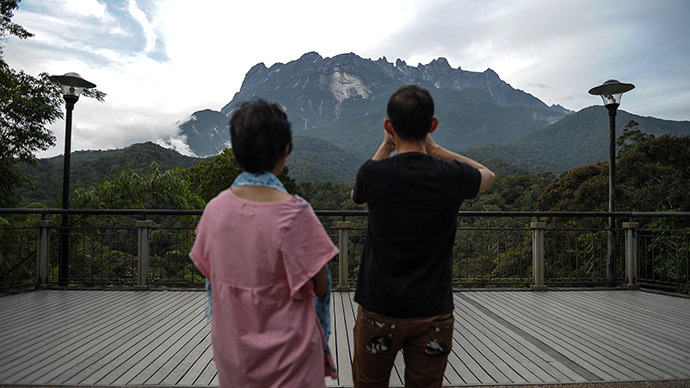 Five western tourists have been banned from leaving Malaysia for "disrespecting the spirits" by stripping naked at the peak of sacred Mt. Kinabalu. Local officials have blamed the group for causing Friday's earthquake, which killed at least 16 people.
Friday's 6.0-magnitude tremblor, centered in Malaysia's Sabah state, stranded more than 130 climbers from 16 countries on the Mount Kinabalu. The UNESCO World Heritage site also suffered from landslides. Tourists from the US, Philippines, the UK, Thailand, and Turkey were on the mountain at the time the quake struck.
READ MORE: Malaysia 6.0 earthquake: Over 160 people stranded on mountain, 40 missing (VIDEO)
Two people are still missing on the mountain, while hundreds of individuals are helping with the search. Meanwhile, Singapore and Malaysia announced a day of remembrance for the people killed in the quake.
Singapore is mourning the loss of at least six children and their primary school teacher who had travelled to Mount Kinabalu for a school trip. One Japanese and one Chinese national were also killed.
Meanwhile, local indigenous people have been blaming the disaster on a stunt by a group of tourists that took place on May 30. A total of ten tourists separated from their group and stripped naked on the mountain peak, taking pictures and posting them on social media.
Malaysian police have only been able to identify five of the participants so far: Lindsey Petersen and Danielle Petersen, a Canadian brother and sister; Eleanor Hawrins and Dylan Thomas, two Dutch citizens; and Stephan Pohlner, a German citizen.
READ MORE: 'Drumbeat' volcano earthquakes triggered by external noise – study
State police commissioner Datuk Jalaluddin Hassan said that those tourists identified would be prohibited from leaving the country.
Sabahans believe the mountain is sacred ground – a place where spirits go after people have passed away. They say the tourists' stunt made the "mountain spirits mad."
"When the earthquake occurred it can be taken as confirmation of what the consequences would be when these people decided to bare it all on top of the mountain. We cannot play around with the spirits on our sacred mountain," Deputy Chief Minister of Sabah, Tan Sri Joseph Pairin Kitingan told the Borneo Post.
A spokesperson for the Canadian Ministry of Foreign Affairs, Nicolas Doire, confirmed that the two Canadians were not allowed to leave the country, adding that consular services are being offered to them.
The Star was able to reach the stranded Canadians' parents. Their father, Floyd Petersen, said he hadn't been informed about his children's fate, admitting that he hadn't spoken to either one of them recently. He did confirm that the two had traveled to Malaysia and were scheduled to return in a couple of weeks.
A local tribe is organizing an appeasement ceremony for the mountain in order to console the deeply offended spirits.
The government has yet to decide on the date of the ceremony, Tourism, Culture and Environment Minister Datuk Seri Panglima Masidi Manjun told the Borneo Post.
"Our priority now is on the search and rescue of the missing climbers. But it will be an inter-faith ceremony," he said.
READ MORE: Stuck in Japanese lift during quake? No problem – water and toilets to be inside!
You can share this story on social media: