Malaysia 6.0 earthquake: Over 160 people stranded on mountain, 40 missing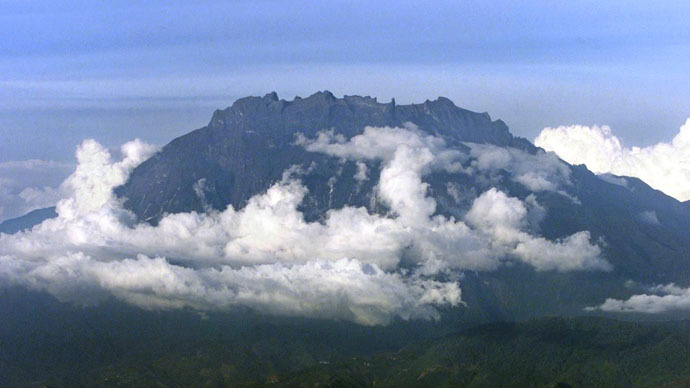 Rockfalls at Malaysia's Mount Kinabalu, caused by a 6.0-magnitude earthquake on Borneo Island, have left more than 160 people stranded on the peak, with some injured, according to officials. Forty people have been reported missing.
About 120 climbers and 40 local guides appear to be unable to descend from the Kinabalu summit, due to the Friday morning earthquake. At least four climbers had injuries, such as broken bones and head wounds, the New Straits Times reported.
Not in San Andreas movie, its live in Sabah. Pray for them. #prayforSabahan#SabahEarthQuakepic.twitter.com/TsmLvgpfZi

— gas (@YSomeone) June 5, 2015
"It's very tricky now," Sabah state tourism minister Masidi Manjun told AFP. "We can't land a helicopter up there because visibility is so bad, but the people can't come down on their own because the main route is now impassable."
The rescue operation "Op Gempa" has already led to 29 climbers being brought down from the 4,095-metre mountain, local police said.
"We are trying to locate 40 people believed to be trapped on the mountain," Inspector General of Police Tan Sri Khalid Abu Bakar told reporters, as cited by the Star online.
Another 200 hikers were banned from climbing at the gates of the Kinabalu Park for safety reasons.
The peak's iconic profile has suffered, as the tremor destroyed one of the two twin rock formations dubbed "Donkey's Ears".
The iconic Donkey's ear peak at Mt Kinabalu have been damaged by the 6.0 mag earthquake. #sabah#earthquakepic.twitter.com/JWcYprIDMB

— Adrian Lasimbang (@lasimbang) June 5, 2015
According to the US Geological Survey, the quake hit at about 7:15 am (2315 GMT) at a depth of 10 kilometers, with its epicenter located about 54 kilometers (34 miles) east of Kota Kinabalu, capital of Sabah.
No major damage or deaths were initially reported, and there was no tsunami warning. The earthquake damaged a road and at least ten buildings including schools, hospital, police station, banks, mosque and supermarkets in the town of Ranau.
earthquake in Sabah earlier this morning at 7.15 a.m may Allah keep them safe and sound pic.twitter.com/MkIMwFffHS

— بنت.ر (@wiltedfleurs) June 5, 2015
Some panic among the residents of the Malaysian state of Sabah was reported, as people fled buildings in order to avoid any danger. A resident of Kota Kinabalu, Colin Forsythe, told AFP that the quake lasted around 15 seconds and felt "as if a truck had crashed into a brick wall."
i'm afraid that local buildings standards in Sabah werent designed to withstand earthquakes. #SabahEarthQuakepic.twitter.com/1LYzEVAHkZ

— Peghok Pekat (@peghokpekat) June 5, 2015
Malaysia lies outside the Ring of Fire, the seismic activity belt that borders the Pacific basin, so major earthquakes are rare in the country. Mount Kinabalu is considered to be a popular tourist destination with thousands of people flocking each year to climb it. Local tribal group, Kadazan Dusun, believes it to be a sacred place.
Last week, a group of 10 Westerners uploaded their nude photos, made on the mountain's top, on the internet, thus angering the locals and provoking suggestions that the quake was a sign that the spirits were disturbed by their act.
You can share this story on social media: