'I have no regrets': Russian powerlifting prodigy loses US contracts for E. Ukraine charity mission
Published time: 5 Jun, 2015 16:18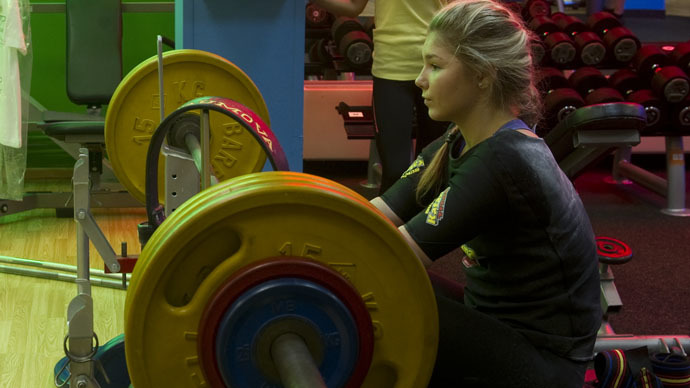 Maryana Naumova, a teenage powerlifter from the Moscow Region, says she has no regrets over the contracts she has lost with US companies after her charity and sport-promoting visits to war-torn eastern Ukraine.
Naumova, who has just turned 16, has made three visits to cities in eastern Ukraine controlled by anti-government forces. She says she is starting to lose contracts.
"Sports clothes and equipment companies have started to break contracts with me. Politics have interfered with sport. I don't like it, but... no is no," Naumova said in an interview with Ruptly video agency.
Maryana says the latest company that disowned her was a sports nutrition producer for which she had been a poster girl for the past two years.
The girl's father believes there is a direct connection to her trips in eastern Ukraine. "They long ago expressed dissatisfaction with Maryana's trips to Donbass. Social media users have been writing complaints to us, and competition organizers and company sponsors were complaining and, obviously, these complaints influenced their decision and they don't want to see us anymore," he told a Moscow radio station, RIA Novosti reports.
READ MORE: 'I was to play Rachmaninoff, not preach politics' – fired pianist Valentina Lisitsa to RT
He also says Maryana is on "Ukraine's Security Service (SBU)'s list of terrorists," and thus, is not permitted to enter Ukraine – or at least the parts controlled by Kiev.
Being barred from Ukraine is not the only obstacle Maryana is facing. "I wanted to go to Australia, to the world championship, but it so happened I was not given a visa," she said. "I believe it is because of my trips to Donbass. Then, we went to the Arnold Classic tournament [to the US]. My coach was supposed to go with me. He was not given a visa. I only learned about it a couple days before going."
Despite all the hurdles, Maryana says she cannot abort her mission.
"There is a great responsibility on me now," she said. "I used to be a normal schoolgirl with a love for sport, and now... I went there once, and then they started to invite me. I cannot refuse, because no one else goes there. I've come to like it now."
READ MORE: World's 'strongest' girl asks Schwarzenegger to reconcile US with Russia
She says she initially went to eastern Ukraine out of concern for the children there: "I watched all the television reports and I was very worried for the children. As a teenager, a schoolgirl, I was thinking: how do they study out there? What do they do?"
Maryana Naumova is a real powerlifting prodigy. A holder of about 20 world records, she is the first female athlete under 18 in the world to be allowed to take part in professional powerlifting tournaments. Her latest record, registered when she was still 15, is bench-lifting 150 kilograms.
She is a fan of American powerlifter-turned-governor Arnold Schwarzenegger. She made headlines in March by asking "The Terminator" to reconcile Russia and the US, to which he promised to see what he can do.