World's 'strongest' girl asks Schwarzenegger to reconcile US with Russia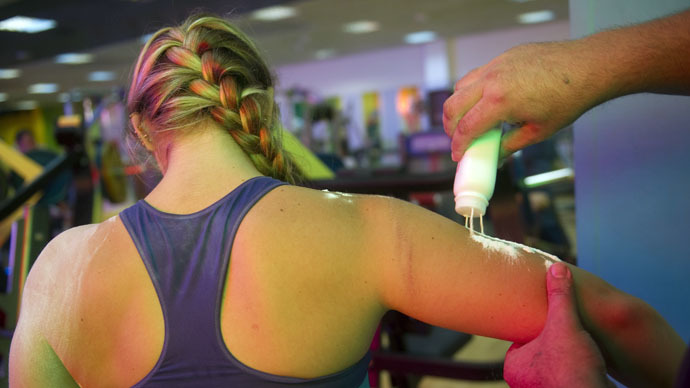 A 15-year-old powerlifting champion, Maryana Naumova from Russia, has met with 'The Terminator,' Arnold Schwarzenegger, and asked him to make peace between US and Russia. "He promised to work on it," she said.
The schoolgirl from the Moscow region, who currently holds the title of the strongest teenage girl in the world, met with the former California governor, film actor and bodybuilder at a sports tournament, organized as part of Arnold Sports Festival in Ohio last weekend.
Марьяна Наумова (15 лет) - самая сильная девочка в мире: pic.twitter.com/lQiFJc3Veg

— Нежный (@subjectRF) March 10, 2015
After setting a new world record in the bench press, having pressed a 150 kilo (330 pounds) weight, Naumova got to meet the event's organizer, who congratulated her personally, Russian Argumenty i Fakty (AiF) daily reported. In turn, Naumova asked Schwarzenegger to become the US president and to reconcile America with Russia.
"Arnold Schwarzenegger himself congratulated me with the record and we got to talk for a while. I told him that I'm dreaming of him becoming a US president, so he can definitely mend relations with Russia... He listened to me carefully and promised to work on it," the schoolgirl told AiF.
Самая сильная девочка в мире Марьяна Наумова попросила Арнольда Шварценеггера стать президентом США и помириться с РФ pic.twitter.com/tjw9yXZDmI

— Александр Брылин (@bap208) March 10, 2015
Naumova said she also handed Schwarzenegger letters and photographs from Donbass children. "He took the envelope. I hope he will reply," she later wrote on her Vkontakte page. The region in Ukraine has been torn by civil war for nearly a year, with thousands of people – including many civilians, children among them – having been killed in the conflict between Kiev and anti-government forces.
READ MORE: 'Long way from peace': Over 10 civilians killed in E. Ukraine shelling after Minsk agreement
Post by Maryana Naumova.
Naumova, who has set over a dozen world records in powerlifting, regularly takes part in various humanitarian missions while traveling around the world.
READ MORE: Duma chief pledges Russian support in Donbass restoration
She says she now receives letters from children in Donetsk and Lugansk in southeastern Ukraine, after she went there several times last year.
READ MORE: Weightlifting girl sets another world record (VIDEO)
After her visits, Naumova was stripped of all her previous titles by the Ukrainian government.
At the US tournament, Naumova had to ask American trainers and assistants to help her get ready for the event, as her personal trainer was denied a US visa and could not accompany the girl to the tournament. "In our sport, a good deal hinges on the coach, but I'm happy it all worked out," she said.
In the Cold War era, American schoolgirl Samantha Smith became famous for her efforts to bring peace between the countries. In the early 1980s, Samantha wrote a letter to the then Soviet Union leader Yury Andropov, who replied with a personal invitation to the girl to visit the USSR, which she accepted and later wrote a book about her visit.