'Strong in spirit': Disabled war veterans pump iron to honor WWII heroes (VIDEO)
Published time: 3 Jun, 2015 17:31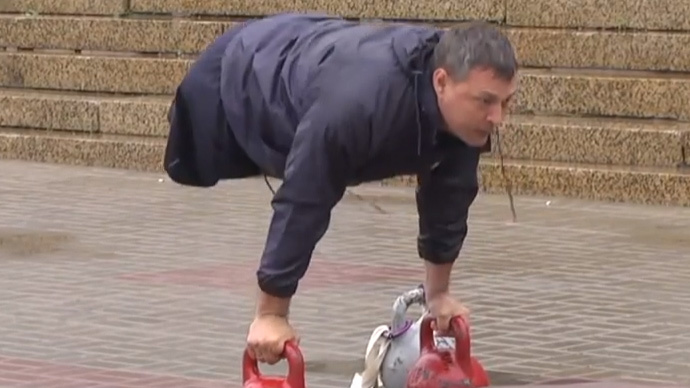 Physically challenged war veterans arrived in the city of Voronezh in the south of Russia to show local youth that a disability is no obstacle to leading a full live and achieving athletic success.
The sports festival on Tuesday was staged as part of an annual "Strong in spirit – 2015" marathon, spanning several Russian cities, including Moscow, in May and June.
As part of the event, veterans with amputated limbs amazed the crowd with their fitness, performing bench presses, weight lifting, acrobatics and even playing table tennis.
They also conducted sports education classes for youngsters, explaining how to handle equipment safely and perform strength-building and acrobatic exercises.
"It's not only a patriotic action; the main goal is to change public attitudes towards people with disabilities. A barrier-free environment still remains a dream. But in the last couple of years, a lot has been done: there are ramps in special institutions, the ability to get to some events. And we'll continue this work," Anna Tsaralunga, local MP, told the Argumenty i Fakty newspaper.
OOOIVA, an organization for veterans with debilitating injuries, which staged the event, dedicated this year's marathon to the 70th anniversary of the victory in World War II.
Most of veterans, taking part in the sport festival, received their injuries during the USSR's war in Afghanistan in 1979 –1989.
READ MORE: Friend in deed: Chinese student carries classmate to lessons for 3 years
The marathon is a charity event, which will see all the money raised given to those wounded in the ongoing conflict in Ukraine.