Friend in deed: Chinese student carries classmate to lessons for 3 years
Published time: 27 Apr, 2015 06:27
Edited time: 28 Apr, 2015 09:45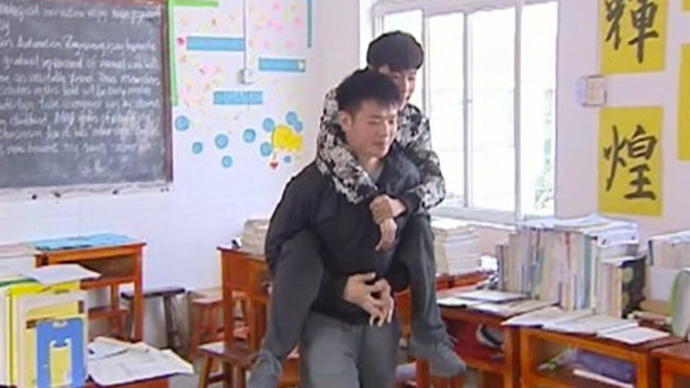 Chinese hearts have been melted by the story of a student who's been carrying his disabled friend to and from school for the last years.
On every single academic day, 18-year-old Xie Xu assists 19-year-old Zhang Chi in getting from his home to their school in northern China's province of Jiangsu.
Xie, far from a heavyweight at 1.73 meters tall and weighing 75kg, also sees his friend moved from class to class.
The compassionate student told the Chinese media that he carries Zhang back and forth at least a dozen times every day, over 200 days per year.
Zhang Chi suffers from muscular dystrophy, an incurable genetic disease that causes the body's muscles to weaken, hampering locomotion.
The two young men got acquainted at the Daxu High School, with their friendship helping them become among the establishment's top students.
"The story of the two students is so inspiring and touching. They aren't family, but [Xie] has been doing this for three years," Guo Chunxi, Daxu High School's deputy headmaster, said.
According to Guo, Xie's example has inspired his classmates, who have been also willingly assisting Zhang in different tasks.
"With their assistance, Zhang has never missed out on one single class," he stressed.
The story has raised a wave of positive comments on social media, with users praising Xie for his selflessness and calling him "the most beautiful student in China."
Is this the best friend ever? Chinese Student Carries Disabled Friend to School (and back) for THREE Years. http://t.co/nOb4uXCViY

— EarNie Lee (@earnest298) April 27, 2015
"We should learn from their friendship. In today's society, Zhang's dedication is especially precious," one of the users wrote.
Another commentator stressed that "piggybacking once isn't hard at all, but what amazes us is that he's stuck to it for so long! Good job!"