​Employment abuses are 'reality' across EU – study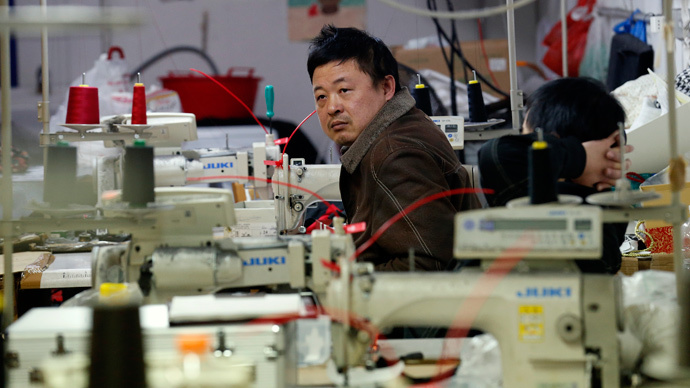 The European Union is home to widespread employment abuses, according to a new study. Both EU and non-EU citizens have fallen victim to labor exploitation, despite laws which allegedly protect workers.
The study, conducted by the European Union Agency for Fundamental Rights (FRA), is the first of its kind to thoroughly explore all criminal forms of labor exploitation in the EU.
The agency compiled around 600 interviews with representatives of trade unions, police forces and supervisory authorities, finding that employment abuses are prevalent across the EU.
READ MORE: EU migrants must work in the UK before claiming benefits
"Labor exploitation is a reality in the EU," FRA spokesperson Bianca Tapia said, as quoted by Deutsche Welle. She added that it is becoming extremely commonplace in some sectors of the economy.
According to the findings, criminal labor exploitation is prominent in a number of industries – particularly construction, agriculture, hotel and catering, domestic work and manufacturing.
The FRA said that one in five inspectors dealing with the issue came across severe cases of exploitation at least twice a week.
"What these workers in different geographical locations and sectors of the economy often have in common is a combination of factors: being paid 1 euro or much less per hour, working 12 hours or more a day for six or seven days a week, being housed in harsh conditions, and not being allowed to go on holiday or take sick leave," Tapia said in the report.
While the study stressed that both EU and non-EU citizens face such conditions, Tapia did note that "foreign workforces are at serious risk of being exploited in the EU."
READ MORE: Tories plan to jail, fine illegal migrant workers amid highest immigration figures since 2011
Many migrant workers have their passports taken off of them and are cut off from the outside world by employers, the agency said.
The Vienna-based rights group compiled over 200 case studies. Among those were Lithuanians working on British farms and living in sheds with little access to hygiene facilities.
A case of Bulgarians harvesting fruit and vegetables in France for 15 hours a day – but being paid for just five of the 22 weeks they worked – was also cited.
However, the report did not mention just how prevalent the exploitation is.
"These crimes happen behind closed doors," Tapia said. "No one can know exact numbers."
Meanwhile, FRA interim director Constantinos Manolopoulos called the situation an "endemic problem," adding that urgent action must be taken.
But despite the widespread problem, the agency says that consumers are typically unaware that the goods they buy may have been produced by workers who were exploited.
READ MORE: Germany needs 500,000 migrants a year until 2050 - study
The rights group has called for stronger laws and better oversight, stating that part of the problem is that EU countries often have different labor laws and inspection standards. It added that punishment in certain countries is lax.
"EU member states need to make a greater effort to promote a climate of zero tolerance for severe forms of labor exploitation and take steps to monitor the situation more effectively and sanction perpetrators," Manolopoulos said.
The agency has also proposed a seal which would indicate that a product was created in exploitation-free conditions.
You can share this story on social media: