Russian warplanes reportedly ward off US destroyer in Black Sea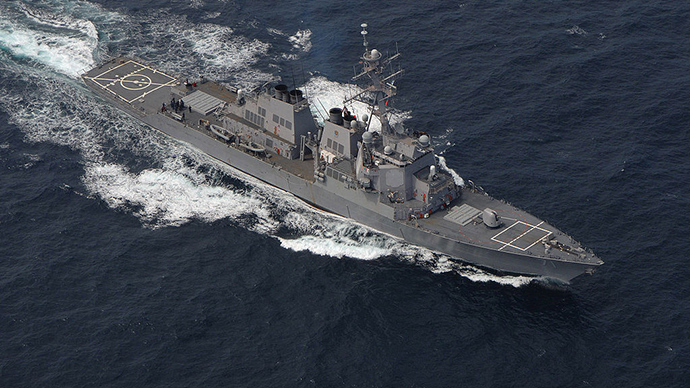 Russian attack jets were sent to warn off the American warship USS Ross from near the country's territorial waters in the Black Sea, RIA reported, citing a military source.
"The crew of the ship acted provocatively and aggressively, which concerned the operators of monitoring stations and ships of the Black Sea Fleet," the source in the Russian armed forces in Crimea told RIA.
READ MORE: US recon aircraft intercepted by Russian fighter jet over Baltic - Pentagon
Su-24 attack jets were scrambled in response. They "demonstrated to the American crew readiness to harshly prevent a violation of the frontier and to defend the interests of the country," the source said. The destroyer then turned around and left for neutral waters.
"Apparently, the Americans have not forgotten the April 2014 incident when one Su-24 practically 'blacked out' all of the electronics on board the newest American destroyer Donald Cook," the source said.
There was no immediate comment from the Russian Defense Ministry or its US counterpart.
READ MORE: Russian bombers 'provocatively close,' fighters scrambled – Swedish military chief
Saturday's incident is the latest in a series of border surveillance confrontations between Russia and the West. Europeans, especially the Baltic states, have repeatedly sounded the alarm over Russian jets coming close to their borders.
The US is rotating several warships in and out of the Black Sea, where Russia's naval bases are located. The USS Vella Gulf, USS Ross, USS Truxton, and the USS Taylor – as well as warships from other NATO member states – were spotted in the area over the past few months.
You can share this story on social media: