Russian bombers 'provocatively close,' fighters scrambled – Swedish military chief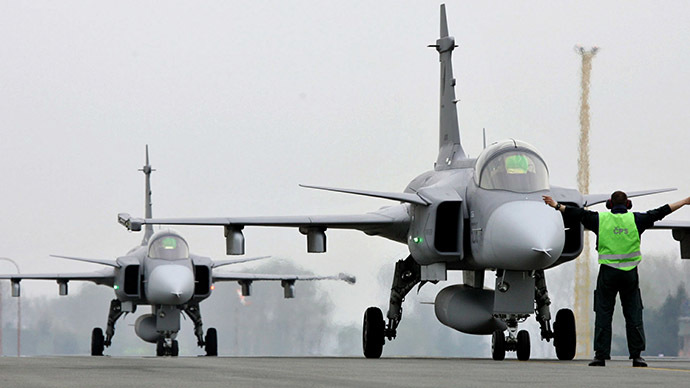 Sweden scrambled fighter jets to intercept two Russian bombers flying near its airspace, the Swedish supreme commander said, claiming the two aircraft had flown "provocatively close" to its borders.
Sweden sent two JAS Gripen fighters to ward off what it says were Tupolev Tu-22M aircraft. "In practice, we said 'hey, we are watching you'" Swedish Armed Forces press officer Jesper Tengroth told the newspaper Dagens Nyheter.
The alleged Russian planes never crossed the Swedish border, military officials admitted. "[They] went out over the Gulf of Finland and then went southwards above the southern tip of Öland," Armed Forces Supreme Commander Sverker Göranson said, cited by public broadcaster Sveriges Radio. Öland is one of Sweden's islands.
READ MORE: US recon aircraft intercepted by Russian fighter jet over Baltic - Pentagon
Tupolev Tu-22Ms, capable of carrying both conventional and atomic weapons, are often used for surveillance.
This follows several similar cases earlier this month. In one of the two latest incidents, the Latvian Air Force sent fighters to escort a Russian Il-76 which was flying to the enclave of Kaliningrad. Later, on May 14, the UK launched its Typhoons when it discovered Russian Tu-95s in international airspace near the north of Scotland. In neither case did Russian aircraft cross the other country's borders.
Sweden has intercepted Russian planes under similar circumstances before. Russian planes were spotted near its airspace in March of this year, and Sweden alleges that in September 2014 Russian aircraft crossed the Swedish border. The latter case was dubbed "the most serious aerial incursion by the Russians" in almost a decade by Sweden's former Foreign Minister Carl Bildt.
READ MORE: US flexes its European muscles, leading war games in Germany (VIDEO)
The Russian government has not commented on the latest incident. Göranson told the media it was a "clear indication" of increased Russian military activity in the region, and "an obvious signal to the outside world."
Russia, for its part, has expressed worries over NATO's increased military activity close to its borders. In particular, Moscow expressed "special concern" in April over Sweden and Finland's effort to become more closely aligned to NATO, which is boosting its presence in the region at the moment.
You can share this story on social media: